Goliath v Goliath: 'Scariest man on the planet' set to take on 'Iranian Hulk' in MMA match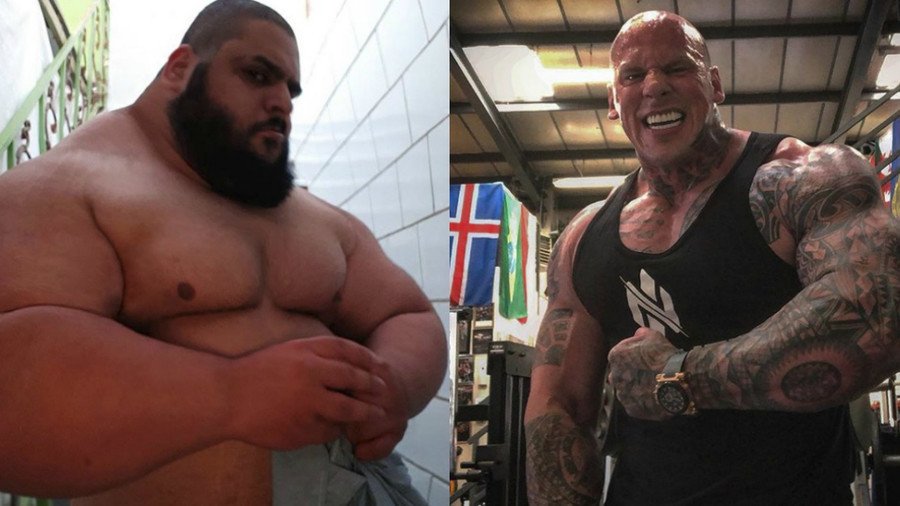 Two behemoths are set to battle each other in one of the 'biggest' mixed martial arts contests of all time, as 6ft 8in Englishman Martyn Ford readies himself to face 390lb 'Iranian Hulk' Sajad Gharibi.
Bodybuilders Ford and Gharibi will compete in the blockbuster bout for Polish organization KSW, despite neither man having professional MMA experience.
Gharibi, who will give up seven inches in height to his opponent, has experience in wrestling, a hugely popular sport in his native Iran, but would still be considered a novice in his new sport.
Previously, the massive Iranian has also taken aim at ISIS and has vowed to help in the fight against the Islamic terrorist group.
READ MORE: Supersize Iranian 'Hulk' signs up to help crush ISIS in Syria (PHOTOS)
KSW, which was founded in 2004, has developed a reputation for holding bouts affectionately referred to a 'freak shows' by MMA fans. Mariusz Pudzianowski, the former five-time World's Strongest Man, has compiled a 12-6-1 MMA record mostly under the KSW banner and would likely be considered an interesting opponent for whoever comes out on top of this gargantuan clash.
Ford, dubbed by the media as the 'scariest man on the planet', maintains an eye-watering diet plan, knocking back 20 egg whites, 3 whole eggs, 300g of cottage cheese, soy sauce and olive oil for just ONE of this numerous daily meals.
He has appeared in numerous films and TV shows and was even the inspiration for the titular character in the popular 'Hitman' video game franchise.
In Gharibi, Ford will square off with one of the few opponents available close to his own size and you would expect that Polish officials will consider reinforcing the ring given the near ton of flesh and bone which will be on display.
There is no indication yet as to exactly when the fight will take place.
You can share this story on social media: