'I did nothing wrong': Paul Gascoigne tweets then deletes his response to sexual assault charge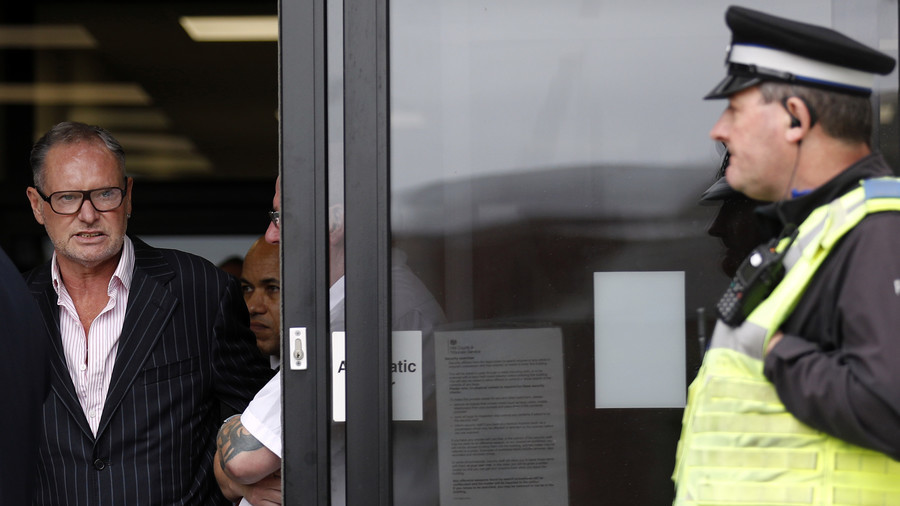 The English football legend Paul Gascoigne has responded to a criminal charge of sexual assault by touching, defending himself in a series of now-deleted tweets, including "I've soooo much respect for women."
Gascoigne, 51, was charged on Monday after an alleged assault which took place on a train between the English cities of York and Durham, according to British Transport Police.
READ MORE: Ex-England football icon Paul Gascoigne charged with sexual assault on train
The series of tweets appeared on Gascoigne's social media profile on Monday afternoon, but were swiftly deleted. One stated that the police officers who detained the former Tottenham, Lazio and Rangers midfielder asked Gascoigne for photographs and autographs.
British Transport Police deny this allegation.
In one message Gascoigne writes that he was 'crying his eyes out' and suggests that the incident in question occurred when he let a woman kiss him on the cheek after he defended her from insults she was receiving from a third party on the train.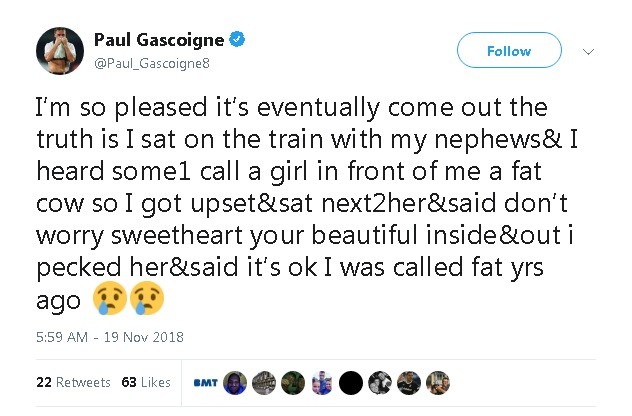 The first tweet read: "Hi as u know ive been charged with a sexual assault from 4 mths ago plus the police who charged me asked me for selfies&an autograph?
"Why if I did wrong ok I'm sticking up4myself my manager SHANE said say nothing leave it2 the lawyers no I'm my own lawyer I did f*** all wrong."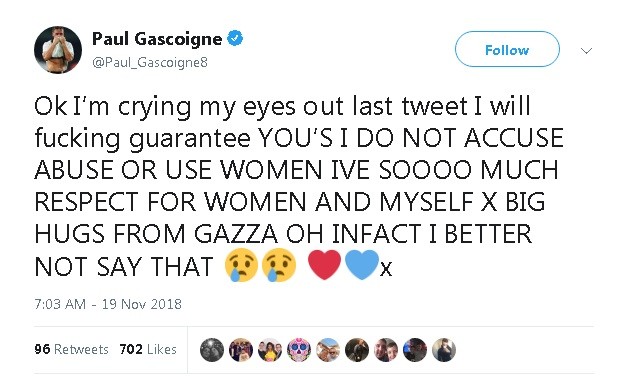 That was followed by another message: "My niece&nephew who were hospitalised because they were called fat at school &refused2eat,I was called fat it's ok I'm just sad about it as I respect all women I've a MAM2sisters2nieces a daughter so why assault x just so pleased that everyone I know they no it not true."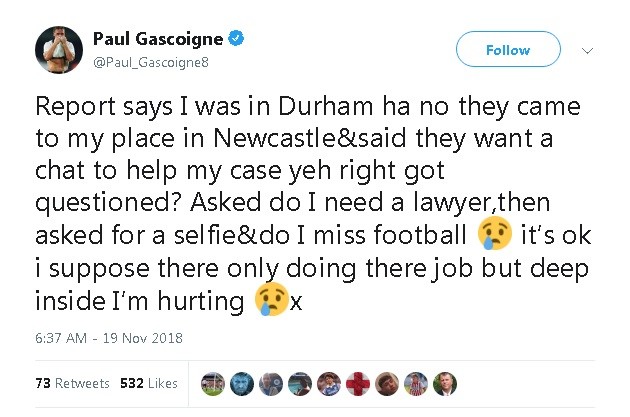 The third said: "Report says I was in Durham ha no they came to my place in Newcastle&said they want a chat to help my case yeh right got questioned? Asked do I need a lawyer,then asked for a selfie&do I miss football it's ok i suppose there only doing there job but deep inside I'm hurting."
Another states: "Ok I'm crying my eyes out las twee I will f****** guarantee YOU'S I DO NOT ACCUSE ABUSE OR USE WOMEN IVE SOOOO MUSH RESPECT FOR WOMEN AND MYSELF X BIG HUGS FROM GAZZA OH INFACT I BETTER NOT SAY THAT."

A fifth and final tweet said: "Ok I promise2delete my tweets but just1last tweet then I'll delete WHAT DO I DO WHEN A WOMEN WANTS A SELFIE&A KISS ON MY CHEEK ? Do I say oh that's a sexual assault if so I'd be in court4the rest of my life x FFS IM GETTING accused Y FOR CARING4some1 that got called a fat cow."
The tweets have all since been removed from Gascoigne's account.
READ MORE: 'I really want it' - Novak Djokovic sets sights on Roger Federer's Grand Slam haul
Gascoigne was arrested for the alleged assault on August 20 at Durham Station.
A police spokesperson said that he would be due before the courts in December.
"Paul Gascoigne, of Leicester, was charged via postal requisition with one count of sexual assault by touching, contrary to Section 3 of the Sexual Offences Act 2003."