Hilarious Russian rugby players troll fans with 'fight' and ridiculous dance routine (VIDEO)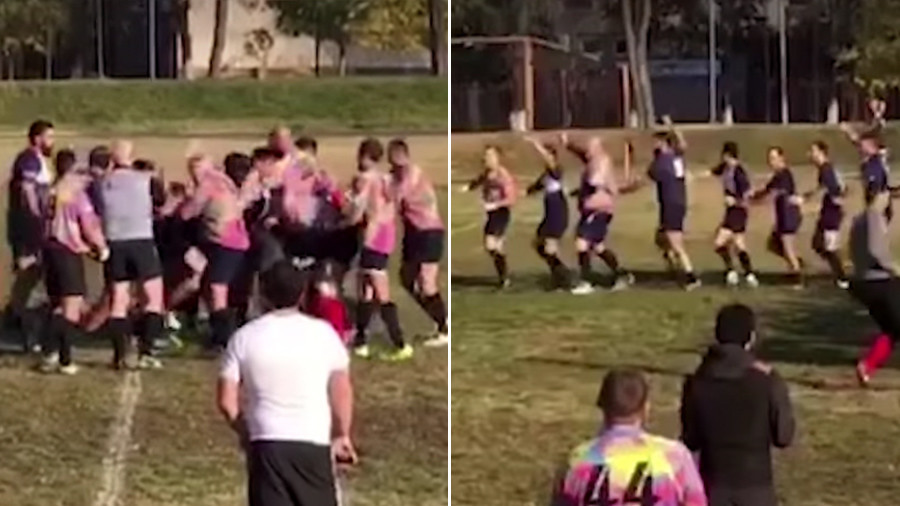 Normally a scrum between two Russian rugby sides means a no-nonsense, testosterone-fueled struggle for possession - not in this hilarious friendly match, which features fighting and then frolicking in a conga.
READ MORE: 'Ruthless cyborgs!': New Zealand media dissects 111-year Irish win over All Blacks
Moscow Dragons Rugby Football Club met Sarmatians from North Ossetia-Alania, in Russia's Caucasus region, for a friendly game of rugger.
Suddenly, during the all-important scrum, it looks as though the ubiquitous hairy brawl was about to break out between stocky men with lots of pushing and shoving, but just as it looked like all hell would break loose, music begins to play.
Instead of swapping punches, the colossal men suddenly grab each over by the hips and form a conga line around the pitch, prancing along to the music. The stunt had been arranged pre-match, and was an effort to popularize the sport in the country.
"We made it to entertain the audience and to let people now that it's safe in Caucasus and even in time of troubles, everything can be solved in a good manner as it always being solved in rugby," a spokesman for the Dragons, who were founded in 1997, said.