'Woman' of the Year: GQ slammed for quote marks on Serena Williams cover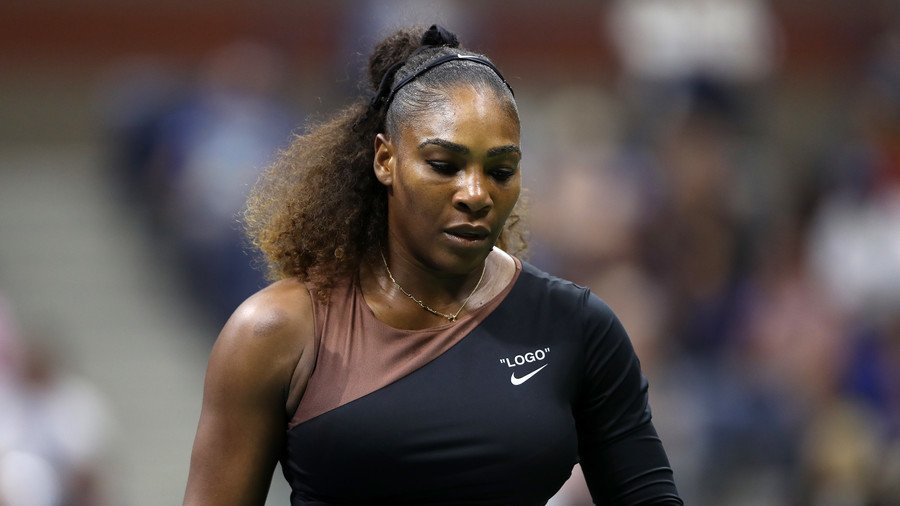 GQ magazine has prompted widespread bemusement for a cover featuring Serena Williams as its "Woman" of the Year – with many questioning the use of quotation marks in the title describing the US tennis star.
The men's magazine revealed covers featuring several of its Men of the Year on Monday – including actors Michael B. Jordan, Henry Golding and Jonah Hill. But it was the cover introducing Williams as its pick for the female version of the accolade which caused the biggest commotion.
The image next to the tennis star – who was clad in a revealing black outfit set off with a chunky Chanel belt – was accompanied by a title with the word 'Men' crossed out and replaced by "Woman," denoting the gender in quotation marks.
The inclusion of the punctuation device in describing the 23-time Grand Slam winner led to widespread bafflement online.
It turned out that the key to clarifying the confusion was actually in the original tweet by GQ, which explained that the covers featured "handwriting" by Virgil Abloh – a fashion designer who has collaborated with Williams.
Abloh's designs typically feature quote marks, including on some of the Nike apparel he has worked on for Williams.
GQ research manager Mick Rouse was quick to step in to explain the stylistic inclusion, in an attempt to quell the flames of fury on Twitter.
But that still left some bemused, especially given the sensitive discussion that has surrounded Williams and gender in the past – which the star herself has alluded to.
As recently as this May year, Williams told Harpers Bazaar magazine: "People would say I was born a guy, all because of my arms, or because I'm strong."
Many Twitter users felt that the subtle nuances of the fashion world would be lost on casual readers – and even some who got the reference deemed it problematic.
Some of the Twitterati claimed the quotation marks were the least questionable aspect of the cover, and gave the fashion mag a dressing down over its choice of Williams for the accolade given her infamous outburst during her US Open final defeat to Naomi Osaka earlier this year.
READ MORE: 'Liar & thief': Serena Williams launches shocking tirade at umpire in US Open final defeat
Williams, 37, has not been seen on court since her controversial defeat in New York in August, having cut short her season in September when she withdrew from the China Open.
READ MORE: 'I'm still trying to take my mind off it': Osaka says US Open win against Williams was 'bittersweet'
However, she will return at the Australian Open in January as she resumes her bid to equal Margaret Court's record of 24 Grand Slam singles titles.
You can share this story on social media: