Steph Curry says Serena Williams showed 'grace & class' in US Open final, internet raises eyebrows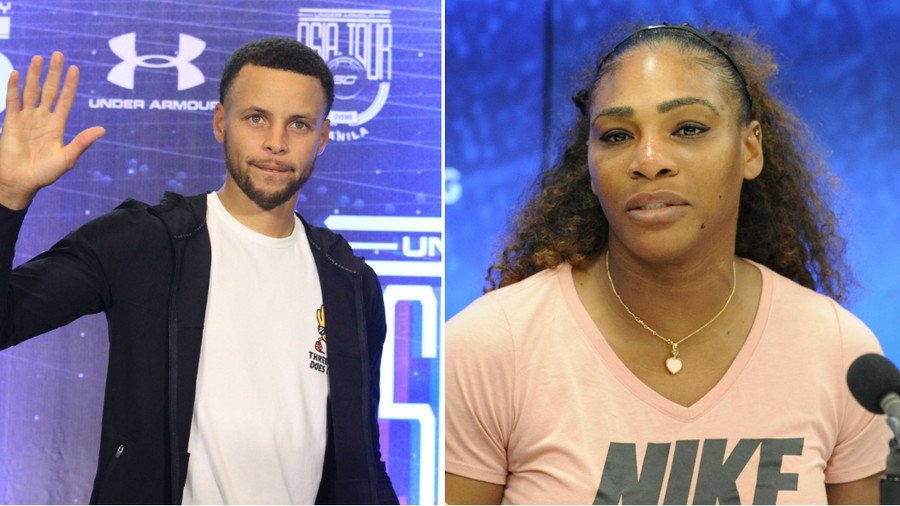 NBA star Stephen Curry has raised eyebrows online after saying Serena Williams acted with "grace and class" in her US Open final defeat to Naomi Osaka, during which she controversially clashed with the umpire.
Williams, 36, suffered defeat to 20-year-old Osaka in New York on Saturday night, handing the Japanese player her first Grand Slam title.
However, the match was largely overshadowed by Williams' outbursts at umpire Carlos Ramos, during which she branded him a "thief" and a "liar," over code violations Ramos issued.
While the on-court clashes during the match drew booing from the crowd in support of Williams, she attempted to quell their anger during the presentation ceremony and direct attention to Osaka.
Now, Golden State Warriors star Curry, who is friends with Williams and has shot commercials with her, saw no problem with the way the 23-time Grand Slam winner handled the situation.
"I would say a championship match in terms of high-level talent on the court between those two ladies... obviously Naomi deserved to win and she played amazing," Curry told Omnisport.
"The way Serena handled the situation, I think she handled it with such grace and class. At the end of the day, I hope everybody understands and celebrates Naomi because she's the US Open champion and that's pretty dope," Curry added.
His claims over Williams' behavior have prompted bemusement from some Twitter users, who have been left baffled by the 30-year-old's assessment of events.
The only Grace& Class we saw was from Naomi, who was humble and even bowed to Serena, thanking her for playing.

— Walter Van de Reck (@VanReck) September 12, 2018
yeah, those hysterics and accusations showed grace & class.

— 🍕Dough-Re-Mi-Fa-So-La-Ti-Dough🍕 (@Chef_JohnDough) September 12, 2018
haha grace and class? wtf ..Serena, although such GOAT player she is, acted like a spoiled brat

— Joshi (@joshi_bp) September 11, 2018
She would have been ejected a long time before the end of her tantrum in a Baseball game.

— Christopher Lee Dunn (@CLDUNN58) September 12, 2018
No @StephenCurry30 , Serena Williams did not handle losing with grace and class. Quite the opposite really. She's made a champion almost forgotten because of her petulant behaviour. And she's not defending women. Look for her sketch about  Mauresmo. That says it all.

— Steve Davis (@stevemavis75) September 12, 2018
Williams was fined $17,000 for her series of outbursts, which began when she was handed a code violation for receiving coaching during the second set. Her coach, Frenchman Patrick Mouratoglou, later admitted he had signaled to Williams from the stands, but said she had not seen him.
Williams later smashed her racket and was docked a game for an outburst at Ramos stemming from her anger over the initial violation.
READ MORE: Serena Williams' history of petulance makes a mockery of her status as a role model
Her claims of sexism drew support from prominent figures in the world of tennis, including Billie Jean King, as well as the WTA, although King said on Tuesday that Williams had been "out of line, there's no question."
You can share this story on social media: