Spartak v Rangers: Gerrard leads Scots to Moscow for Europa League clash with struggling Spartak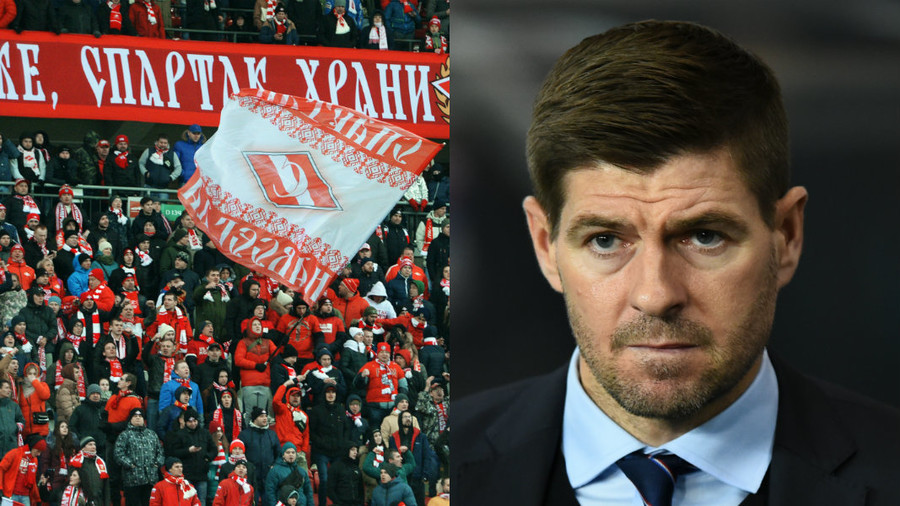 Rangers' Steven Gerrard leads his side to the Russian capital to face Spartak Moscow, an embattled team currently dealing with boycotts, fan protests, and their captain's every touch being booed. RT Sport explains why.
As far as football meltdowns go, Spartak Moscow's capitulation from 2016 Russian champions to today seems fairly spectacular. A host of internal problems and in-fighting have gnawed at the core of the country's most successful club, creating an external hash of supporter discontent, intensified by poor performances on the pitch.
Spartak's woes can be traced back to their below-par start to the season, after which Italian manager Massimo Carrera was dismissed after a 3-2 home loss, which left the club in seventh place having won one of six prior games.
What followed was perhaps worse. Carrera, a former player at Juventus and Italy and coaching comrade of Antonio Conte, was beloved by fans at Spartak, having delivered their first title in 16 years just two seasons previously.
READ MORE: Did you 'ear? Mourinho's Man United silence Juve in Turin after Ronaldo 6-pack flash (VIDEO/PHOTOS)
His replacement, Raúl Riancho, who was Carrera's number two and whose managerial prowess stretched no further than the role of fitness coach at the club, has thus far been unable to lift Spartak from their rut, winning just one of four matches, adding another home defeat in their last fixture before the visit of Rangers.
Home fans continued to laud their former boss, renditions of their favorite "A tutti, avanti, Massimo Carrera" ringing around Otkritie Arena. Ironically, the match against Rangers comes on the exact day Carrera flies home to Italy from his just over two-season stay in Russia, which brought hoards of fans to see off their beloved former boss.
Massimo Carrera departs his final press conference to rapturous applause and chants from Spartak Moscow fans.

The Italian will be remembered fondly in Moscow. 👋 pic.twitter.com/eemVayesMf

— Russian Football News (@RusFootballNews) October 24, 2018
It will be no surprise to hear the same on Thursday; those calls are a marker of how supporters have become detatched from and dissillusioned with management, with supporters insisting billionaire owner Leonid Fedun sell the club to allow for its progression.
Fans also turned on club captain Denis Glushakov. Embroiled in his own messy and very public personal merry-go-round of divorce proceedings and accusations of infidelity, the Spartak faithful accused Glushakov of cheating the manager, and sided firmly with their Italian stallion over their workhorse skipper.
At a recent Russian Cup game, which was partially boycotted, fans made their feelings known with banners of "Glushakov is a b*stard" and "Glushakov is a funeral - Ours" were hanging alongside messages of "Upper management out" and "Fedun is a b*****d." Where Carrera's name was sung, Glushakov's every touch was booed, the melody to the disharmony that is the split in Spartak.
The Okritiye Arena is practically empty for Spartak's cup match this evening.

Fans have boycotted the match due to the sacking of Massimo Carrera and reinstatement of Denis Glushakov as first team captain.

Glushakov's every touch is being booed by the home fans who turned up. pic.twitter.com/MXcUWAdHhl

— Russian Football News (@RusFootballNews) November 1, 2018
Rangers are Spartak's next opponents on home turf, whose manager Steven Gerrard has been no stranger to scrutiny after a string of below-par performances. The Gers have just two wins in their last five games, and failed to beat a weakened, managerless Spartak in the week after they cut ties with Carrera.
Gerrard's frustration became apparent when the former England and Liverpool captain snapped at a reporter who directed a question to midfielder Jordan Rossiter on what his 21-year-old fellow Liverpudlian expects from Rangers players. A Channel 4 reporter supposedly "went to war" with Gerrard after he pulled the plug on an interview with the broadcaster.
Gerrard has absolutely no time for the media up here at all! Was happy to see him jump in for rossiter after the pathetic questions they were asking him pic.twitter.com/PVatDQVool

— GAL (@ANDYGAL19) October 30, 2018
Gerrard's managerial career may only be in its teething period, having been brought in at Ibrox only at the beginning of the season, but he can count on a wealth of European experience from his playing days, having skippered Liverpool to two Champions League finals, delivering the club's fifth European Cup in 2005 following that fabled night in Istanbul.
Rangers sit top of Group G with one win and two draws from three games played, although their performance against Spartak was deemed insufficient. They have drawn with fellow group rivals Villarreal and beaten Rapid Vienna.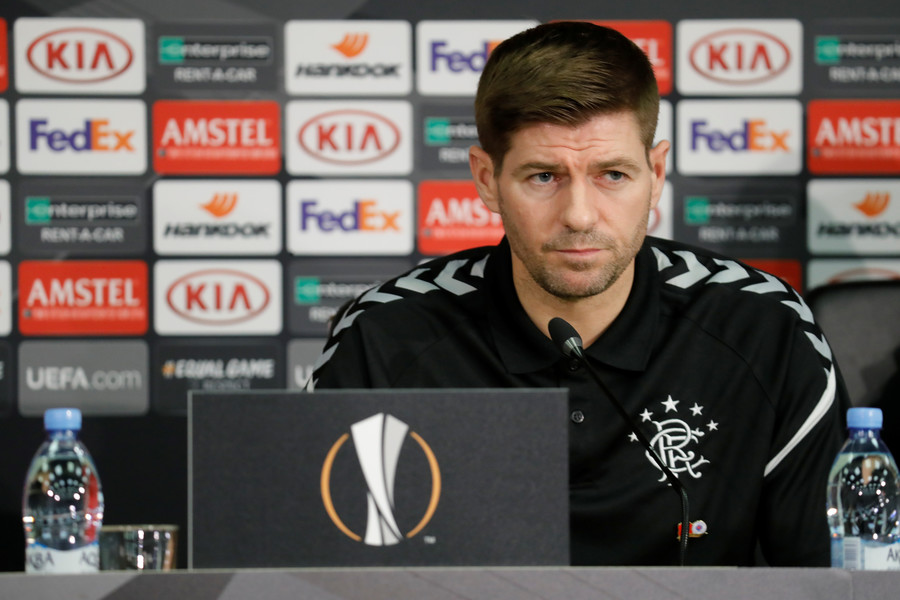 Domesticlly, the blue half of Glasgow's Old Firm are perhaps underachieving, sitting third in the Scottish Premier League after their 11 games this season, four points adrift of crosstown rivals Celtic and five behind surprise league leaders Hearts.
In the Europa League, Rangers already knocked out a Russian Premier League side in the qualifying stages of the tournament, beating FC Ufa 2-1 on aggregate, but only managing a 1-1 draw in the Urals.
Spartak would need better than that result to raise their hopes of qualification, and indeed themselves from the foot of the table, where they currently languish having collected just two points, something that was noted by Gerrard in his pre-match presser in the Russian capital.
"I don't think a draw does Spartak many favours so they need to go for the win. For me, what is important is what Rangers do," Gerrard said in the Moscow conference.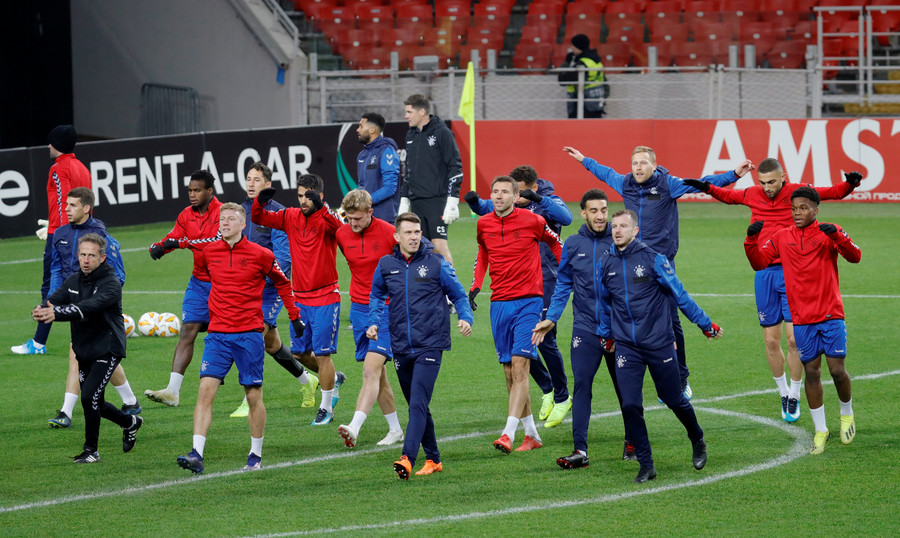 "We want to really start strong and show Spartak and all their supporters our intent on the night, and that is to come here and do everything to get a good result."
No doubt Spartak fans, having watched their club unravel in recent weeks, will want to see the same from their own players to help them back up a slippery slope.