'Good thing we don't hit women!': De La Hoya sensationally hits back at Mayweather jibes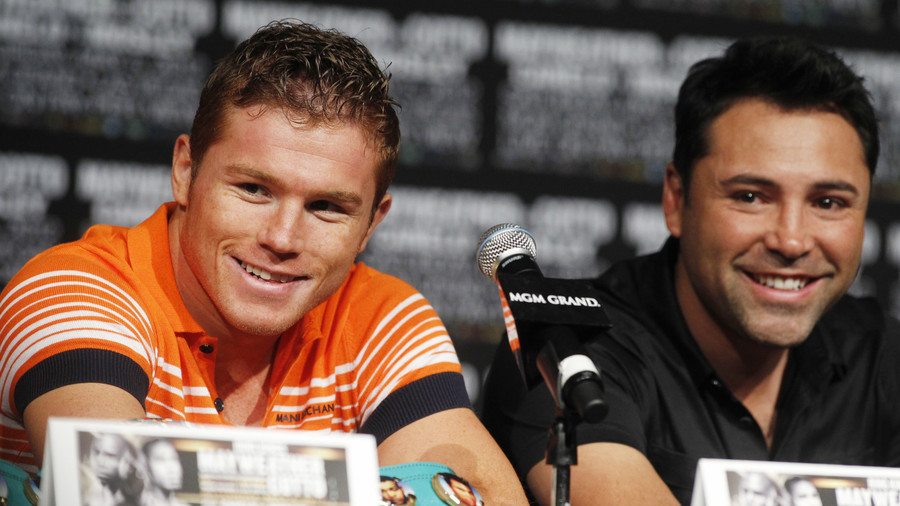 Boxing-champ-turned promoter Oscar De La Hoya has fired back at scathing jibes from undefeated ex-champ Floyd Mayweather Jr against his former opponents, whom he called "Golden Girl" and Saul 'Canelo' Alvarez a "cheating ass".
READ MORE: 'Conor McQuitter, Golden Girl & cheating a**': Mayweather in scathing posts to ex-opponents (PHOTOS)
In response, former multi-weight champion De La Hoya posted a picture of him and current middleweight king Canelo sharing a joke, with a caption referencing Mayweather's previous conviction and 90-day prison sentence for domestic abuse.
"Hey, Canelo someone is salty about your record breaking contract with Dazn. Good thing we will never resort to hitting women," De La Hoya wrote, along with a handful of hashtags including "#DomesticAbuser".
Mayweather posted the insults to Instagram for 'Throwback Thursday', laying into Canelo's recent $365 million deal with streaming service Dazn, by bringing up the Mexican's previous boxing ban for performance enhancing drugs.
READ MORE: The crazy life of Khabib Nurmagomedov: From brawls & bans to 50 Cent & Floyd (VIDEO)
He then imaginatively tweaked the 'Golden Boy' nickname of Oscar De La Hoya to "Golden Girl" to caption an image of the Mexican-American wearing a fishnet suit, before calling Conor McGregor "Connor McQuitter".
All three have shared the boxing ring with Floyd at one stage during his 50-0 career, with 'Pretty Boy' coming out on top in each bout.