'Natural born sniper': Mayweather takes shooting practice on Chechen trip to meet Kadyrov (VIDEO)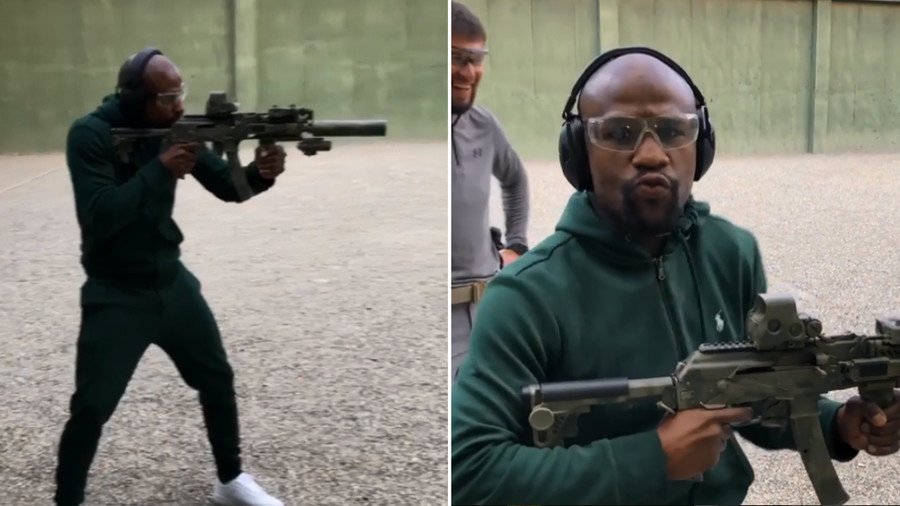 Boxing great Floyd Mayweather proved he can hit the target outside the ring as well as in it, showing off his shooting skills during a trip to a firing range while in Chechen capital Grozny, where he met leader Ramzan Kadyrov.
Mayweather returned to the Russian republic as a guest of honor of Kadyrov, with the pair appearing together at the World Fighting Championship Akhmat MMA event in Grozny on Thursday.
READ MORE: 'Well this is awkward...': Khabib walks out as Conor late AGAIN for presser in Las Vegas (VIDEO)
The former five-weight world champ made the most of his visit to the Russian region, posting a video of himself firing a gun at a local range.
Mayweather initially showed unerring accuracy, hitting five targets out of five to a polite round of applause from impressed onlookers.
The retired boxer even stopped for a shuffle for the camera before his final shot, although he appeared to miss-fire, meaning his efforts weren't quite as unblemished as his perfect 50-0 record in the ring.
The visit was the latest for Mayweather, 41, to the Chechen capital, where he was a guest of "his buddy" Kadyrov twice last year.
During the US star's visit in December, Kadyrov even hinted that the boxing great was interested in obtaining Russian citizenship.
READ MORE: 'This is my buddy!' Boxing legend Mayweather and Chechen leader Kadyrov talk Russian citizenship
This time around Mayweather was a guest at the WFCA 53 event, where he was seen seated next to Kadyrov and where he presented the welterweight belt to new champion Murad Abdulaev.
Mayweather famously defeated MMA star Conor McGregor when the Irishman crossed over into the world of boxing last year, with many demanding that the man nicknamed 'Money' reciprocate by stepping into the cage.
READ MORE: McGregor issues savage snub to Mayweather after offer to help prepare for UFC comeback
However, recent rumors suggest that he will step out of retirement for a second time to take on former rival Manny Pacquiao in a 'nine-figure' rematch of their 2015 boxing superfight.
READ MORE: Return of the May-Pac? Mayweather announces comeback 'this year' for '9-figure' Pacquiao rematch
You can share this story on social media: