'This is my buddy!' Boxing legend Mayweather and Chechen leader Kadyrov talk Russian citizenship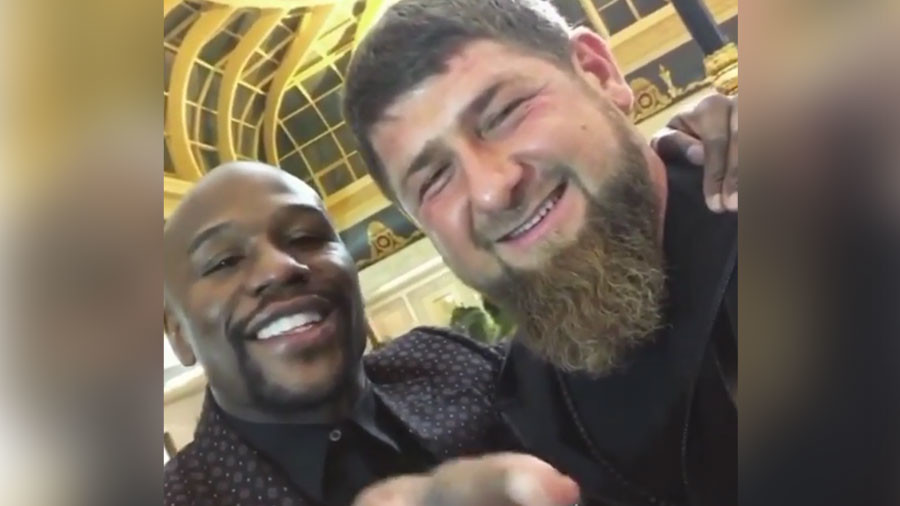 Ramzan Kadyrov seemingly has a knack for rubbing shoulders with sporting greats, with undefeated retired boxing champion Floyd Mayweather Jr. the latest big personality to engage with the Chechen leader.
Both men possess sizeable fortunes, and it appears the pair bonded during Mayweather's visit to Grozny and Kadyrov let slip that the US boxing legend has intentions of gaining Russian citizenship.
READ MORE: Ronaldinho joins Kadyrov in Chechnya football match to honor Putin's 65th birthday
In a video posted to Telegram, the pair joked around, with Mayweather Jr. no doubt enjoying retirement after defeating UFC superstar Conor McGregor in their Hybrid fight in August, inducting Kadyrov into his exclusive 'Money Team'.
"Everybody that's on Instagram you better follow this man right here, this is my buddy, this is my guy right here, and yes, he is a part of the Money Team. I'm in Chechnya right now. I'm worldwide with this," Mayweather Jr said in video posted online by Kadyrov.
Referring to their exchanges, Kadyrov said the pair swapped stories about boxing and sports development in Chechnya.
Kadyrov, who earlier this year shared the field with Brazilian World Cup winner Ronaldinho, also let boxing fans in on the revelation that Mayweather is apparently considering setting up camp in Russia. Although it's unclear for how long.
"We had a warm conversation about boxing and the prospects of its development in Chechnya, Russia and all over the world. His experience, namely fifty victories in fifty fights are worth a lot," Kadyrov wrote on his Telegram channel.
"But most importantly, Mayweather spoke of his desire to obtain Russian citizenship."
Kadyrov added that he expects the 40-year-old, who already has a place to live in Moscow, to bring a team of famous boxers on his next visit early in 2018.
Mayweather Jr. was in Moscow Thursday to encourage and promote young talent at his 'The Money Team' gym.