Ronaldinho joins Kadyrov in Chechnya football match to honor Putin's 65th birthday
Brazilian World Cup winner Ronaldinho played in a football match in Grozny, Chechnya, on Saturday night to honor the 65th birthday of Russian President Vladimir Putin.
The match was arranged by Chechen leader Ramzan Kadyrov between a 'Russia' team - 'Leader 65' - which featured Ronaldinho alongside former Russia internationals Valery Karpin and Roman Shirokov and coached by former Russia national team and CSKA Moscow manager Valery Gazzaev.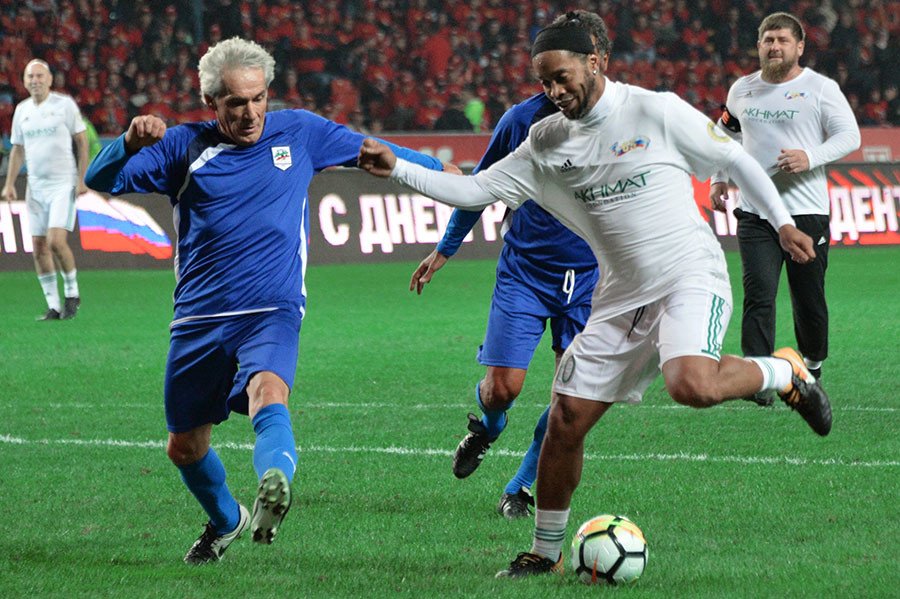 Their opponents were an 'Italy' team consisting of Italian international football veterans known collectively as 'Club Italia Master,' and which included former Juventus striker Fabrizio 'White Feather' Ravanelli and 1982 World Cup winner Paolo Rossi, who met and shook hands with Brazil ace Ronaldinho.
Leader 65 won the game 6-3 in Akhmat Arena with goals from Lev Kuznetsov, Aleksandr Kerzhakov, Magomed Daudov, Roman Shirokov, Ronaldinho, and Kadyrov himself.
"Dear friends, on Saturday evening an international football match took place at Grozny's Akhmat Arena...We dedicated the match to national leader and president of Russia Vladimir Putin's birthday," Kadyrov, who was named captain for the game by Gazzaev, wrote in an Instagram post.
"I want to share the good news that I had the honor to score in this match dedicated to Vladimir Vladimirovich against the Italian team!
"All the stands were full. Before the start of the game, we sang the national anthems of Italy, Russia and the Chechen Republic.
"The stadium was awash with beautiful scenery. During the game, a 1,800 square meter portrait of Vladimir Putin was shown in one of the stands. After the final whistle, the sky above Akhmat Arena was lit up by the fire of beautifully colored fireworks."
Under the portrait of Putin were the words "Together we are Strong," held aloft by a crowd assembled so as to create the Russian tricolor.
The Chechen leader benefitted from some favorable passing throughout the game from the Brazilian World Cup winner Ronaldinho, who also watched from the stands at the stadium during the first home match played by the newly-renamed Akhmat Grozny in July.
The city's football team was renamed in honor of Kadyrov's father, Akhmat, who was killed in an explosion in 2004 at a Victory Day parade on May 9, also at a football stadium.
Ronaldinho is an ambassador for the FIFA 2018 World Cup Russia next summer, and has already made numerous trips to Russia including for the 2017 Confederations Cup last summer.
You can share this story on social media: