Russian football stars beat Ronaldinho-led FIFA legends on penalties in St. Petersburg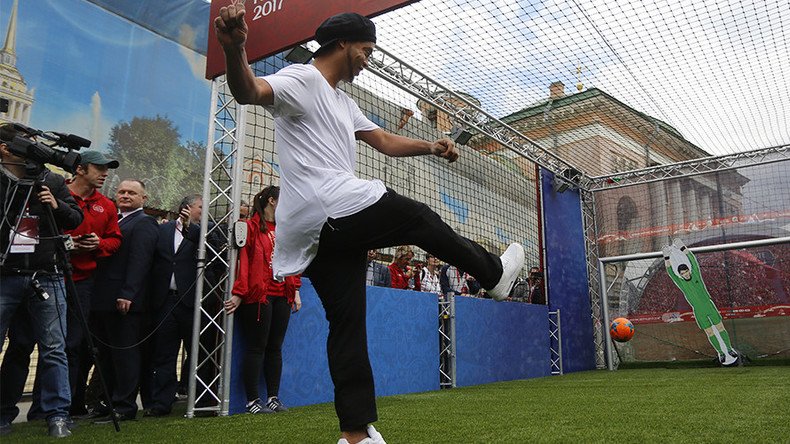 A team of Russian football stars won in a penalty shootout against Ronaldinho and a squad of FIFA legends in St. Petersburg, as the FIFA Confederations Cup 2017 wrapped up its tour of the host cities in Russia.
The six-a-side match drew a large crowd of fans on Sunday, who came to see Ronaldinho, Marcel Desailly, Jay-Jay Okocha, Pablo Aimar, Harry Kewell, and Vitor Baia.
The home team was comprised of former Russian internationals Aleksandr Mostovoi, Dmitry Bulykin, Dmitry Sennikov, Dmitry Sychev, Vladislav Radimov, and Vyacheslav Malafeev in goal.
Normal time saw an 18-goal thriller, finishing in a 9-9 draw, with Russia equalizing seconds before the final whistle.
Former Lokomotiv and Dynamo Moscow attacker Bulykin was instrumental for the hosts, netting five goals.
Two-time FIFA Footballer of the Year Ronaldinho scored a hat-trick for the international team, with Nigerian great Okocha finding the net on four occasions.
But it was former Zenit St. Petersburg keeper Malafeev who shined in the penalty shootout, denying Aimar and Okocha to hand Russia the win.
The half-time break was used by the organizers to unveil the colorful uniforms to be worn by the Confederations Cup volunteers.
In the last three weeks, Confederations Cup Parks were opened in three of the four host cities - Moscow, Sochi, and Kazan - providing fans with a chance to meet their favorite players, see various football attractions, and catch a glimpse of the Confederations Cup trophy.
The 2017 FIFA Confederations Cup, scheduled to take place from June 17 to July 2, serves as a precursor to the World Cup, which Russia also hosts next year, and is seen as a dress rehearsal for the country ahead of the 2018 tournament.
READ MORE: French legend Desailly opens 2017 Confederations Cup Park in Moscow (VIDEO)
The tournament will feature the champions of FIFA's six continental confederations: Portugal, Chile, Mexico, Cameroon, Australia, New Zealand, as well as current World Cup champions Germany, and host nation Russia.
You can share this story on social media: