Mayweather TKOs McGregor in 10th round of The Money Fight
Floyd Mayweather Jr has stopped debutant Conor McGregor in the 10th round of 'The Money' Fight in Las Vegas after a spirited display from the Irishman.
READ MORE: #MayweatherMcGregor: The Money Fight (LIVE UPDATES)
Mayweather came out of a near two-year retirement at the age of 40 to record his 50th professional win and get his hands on 'The Money Belt'.
'Money' Mayweather started slowly with McGregor winning some of the early rounds, landing counter shots that seemed to confuse Mayweather, however, the older man's ring experience showed through as he began to land shots at will as McGregor tired in the later rounds.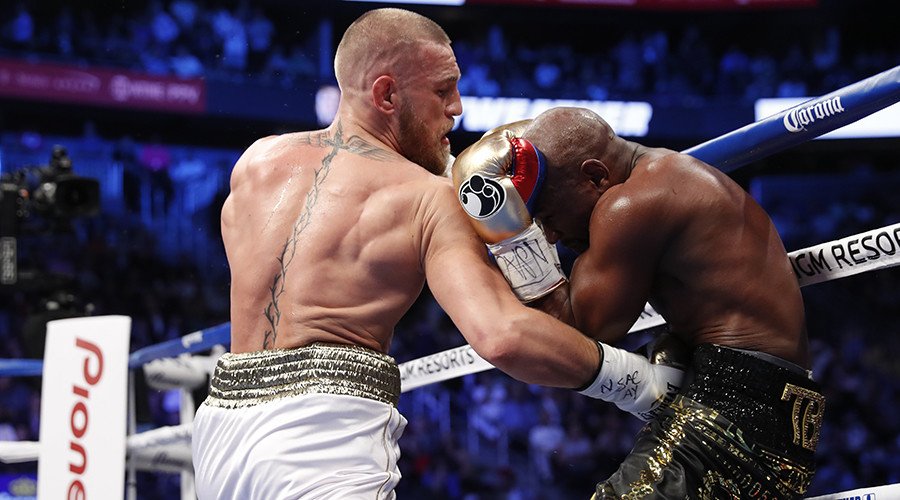 The stoppage came at 1 minute 5 seconds of round number 10, with referee Robert Byrd stepping in as Mayweather bludgeoned the Irishman with lightning-fast straight right hands as McGregor's legs sagged.
Although McGregor seemed to think it was close, the judges rated it a little wider, with scores of 89-81, 89-82, 87-83 all for Mayweather at the time of the stoppage.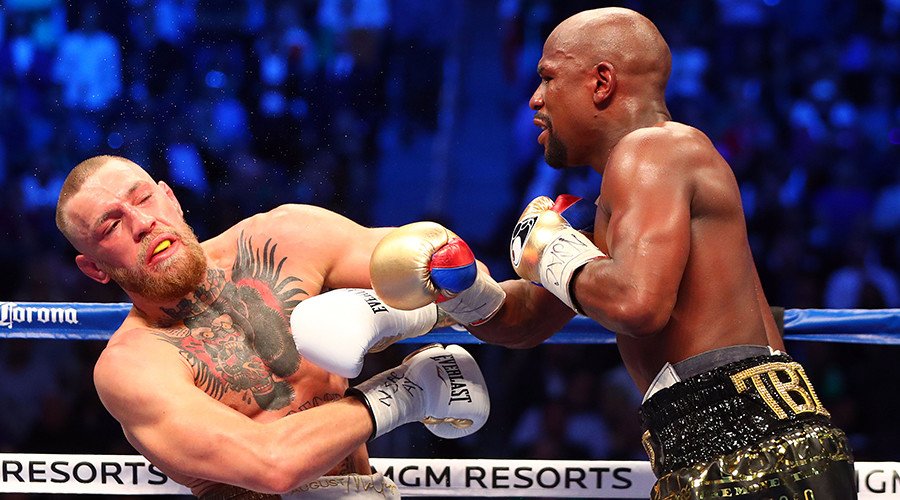 McGregor approached Mayweather after the fight and the two warriors embraced, with McGregor claiming "I was still there," underlining his sureness he had made the fight competitive.
When asked in the post-fight interview, Floyd Mayweather was full of praise for the Irishman, and made the revelation that it would be the last time fans would see him in the ring.
"He's a tough competitor and I think we gave the fans what they wanted to see," said a visibly emotional Mayweather, claiming he had a debt to pay the fans for his lackluster performance against Manny Pacquiao in 2015.
"He's a lot better than I thought he was. He used different angles, but I was the better man tonight"
Explaining his slow start to the fight that allowed McGregor to land counter lefts almost without reply, Mayweather said it was part of a "gameplan" worked out with his father and trainer, Floyd Mayweather Sr., to "take him down the stretch" and let McGregor "land his heavy shots."
READ MORE: Mayweather v McGregor: Fight of the century or biggest con in sporting history?
"I guaranteed everybody that this would not go the distance. Boxing's reputation is on the line," Mayweather said.
When pushed as to whether he may consider future offers for fights, Mayweather told Showtime sportscaster Jim Gray that the fight was the last of his career.
McGregor, who had not shown an ounce of respect in the fight's buildup, was first to praise Mayweather.
"Fair play to you. Respect," the Irishman told him, visibly tired but seemingly not dazed from Mayweather's tremendous barrage in the 10th round.
"He's just composed," McGregor said after the fight. "He's not fast he's not powerful, he's just composed.
"I've got to give him nothing but respect, great career. I thought it was close and I thought it was a little bit early with the stoppage," McGregor said.
You can share this story on social media: