#MayweatherMcGregor: The Money Fight
Published time: 27 Aug, 2017 03:43
Edited time: 18 Apr, 2018 15:01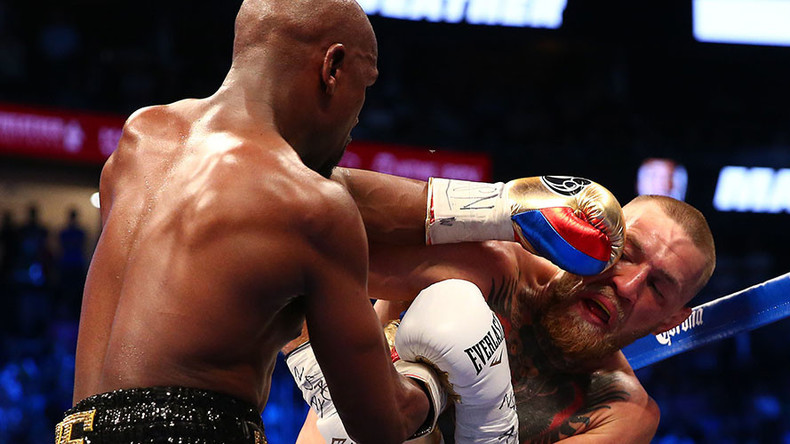 RT Sport brings you live coverage of the most talked about fight ever, as boxing icon Floyd Mayweather Jr. and MMA superstar Conor McGregor clash in Las Vegas.
04:52 GMT

Robert Byrd again tells McGregor to 'get off his neck'. Mayweather landing at will. McGregor on the ropes. The fight is stopped! THE FIGHT IS STOPPED!!!!!

04:51 GMT

McGregor seems to hurt Mayweather with a body shot, Mayweather recoils in agony but the referee bizarrely doesn't step in. Finally Byrd steps in to verbally warn McGregor about a low blow and then leaning on his back. Mayweather teeing off at will, McGregor trying to hold at times. He looks exhausted as Mayweather lands unmercifully. McGregor gasping for air and looking up at the clock. Mcgregor wobbling and throwing tired shots that hit thin air. The tide turns in the fight and Mayweather shows his ring craft!! McGregor's corner ordering their man to 'tie him up' the next round.

04:46 GMT

Round 8. Many predicted the fight would end well before this stage. McGregor again stepping around and then throwing shots to the back of Mayweather's head, referee Byrd telling him not to turn round. Mayweather finding success with the one-two combination, but McGregor is on the back foot and initiates a clinch after steady pressure from McGregor. Byrd telling McGregor to 'get off his neck' when the Irishman throws short shots. Very close round in the 8th.

04:42 GMT

Mayweather cannot seem to miss with that laser like right hand, rocking McGregor's head back with each shot landed. McGregor seeming to slow down here, fatigue may be setting in. Mayweather's best round of the fight so far.

04:39 GMT

Mayweather turns his back and momentarily looks as if he wants the referee to step in, but Robert Byrd simply lets the action continue, McGregor pends Floyd to the back of the head. Then the tide turns and Floyd can't miss with the right hand, coming forward and splaying McGregor with that straight, lead right. Byrd warns Mayweather to keep the head up, his head rocked back by a McGregor one-two. The Money Fight reaches its midway point!

04:34 GMT

Mayweather still walking forward with his hands up, the difference in size between them accentuated when the two fighters are in close. McGregor looking the much bigger man, remember he says he's close to weighing 170 lbs tonight. Mayweather lands a right to the body and left to the head for his most effective punches of the fight and then goads McGregor at the end of the round.

04:31 GMT

Floyd gets caught walking in with a lighting left hand by The Notorious, but Mayweather has begun to close that distance and up the work rate. Mayweather continuing to land the right to the body, McGregor has had success with the left upstairs and also landing to the body. Floyd Mayweather showing a smile in clinches and breaks, but the reality is it's hard for for him in there tonight.

04:28 GMT

Another competitive round from McGregor although Floyd has begun to make his mark in the fight.

04:27 GMT

Floyd beginning to target the body with long lancing right hands, getting back into this. McGregor in danger of having a point taken away with hammer fists as he lands on again to the back of the head.