Mayweather v McGregor: Fight of the century or biggest con in sporting history?
On Saturday night, Las Vegas hosts what is set to be the most lucrative fight in boxing history. One half of the equation is an undefeated world champion, the other a boxing novice making his professional debut. On paper it is a non-event, yet the Mayweather-McGregor 'super fight' has been sold to the masses. We look at how it happened.
Mirage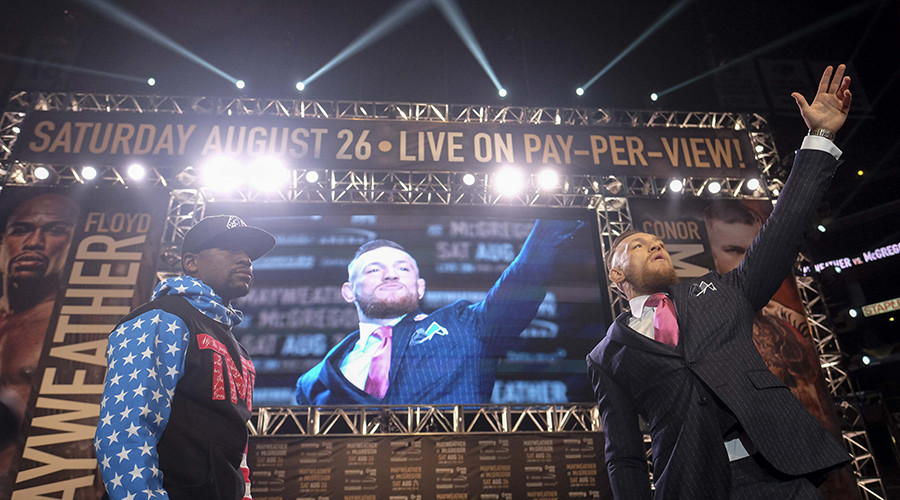 The implausible nature of the fight very much reflects the city where it will take place.
From afar, Las Vegas looks like a glittering mirage in the Nevada Desert, a shiny apparition too improbable to be real amid the arid, rocky landscape.
Once inside the city, it is no less surreal. Giant faux global landmarks; huge, labyrinthine casinos where day and night meld into a permanent twilight zone; endless entertainment on every corner – Las Vegas is a place where disbelief is best suspended.
Indeed, that is what many will do on Saturday night, when the city's T-Mobile Arena hosts a spectacle implausible and mirage-like even by its own outlandish standards.
READ MORE: 'Most unique piece in history of sports' – WBC produces 3,360-diamond 'Money Belt' for MayMac
In one corner we have Floyd Mayweather, 40, widely regarded as the finest boxer of his generation and one of the best of all time, with an undefeated 49-0 record matched only by the late, great Rocky Marciano.
In the other, Conor McGregor, the 29-year-old Irish MMA star whose first foray into professional boxing will be in the biggest money-spinner ever seen in the sport.
McGregor is a fine MMA fighter, and probably a decent boxer, but no respected commentator has given him a chance against a seasoned champion with the most famed defense in the sport's history.
And yet part of the attraction to the fight stems from no one really knowing how things will pan out, considering we are breaking completely new ground. And isn't Las Vegas' specialty making the unreal real? It's that uncertainty that is adding to the hype surrounding the bout.
Masters of self-promotion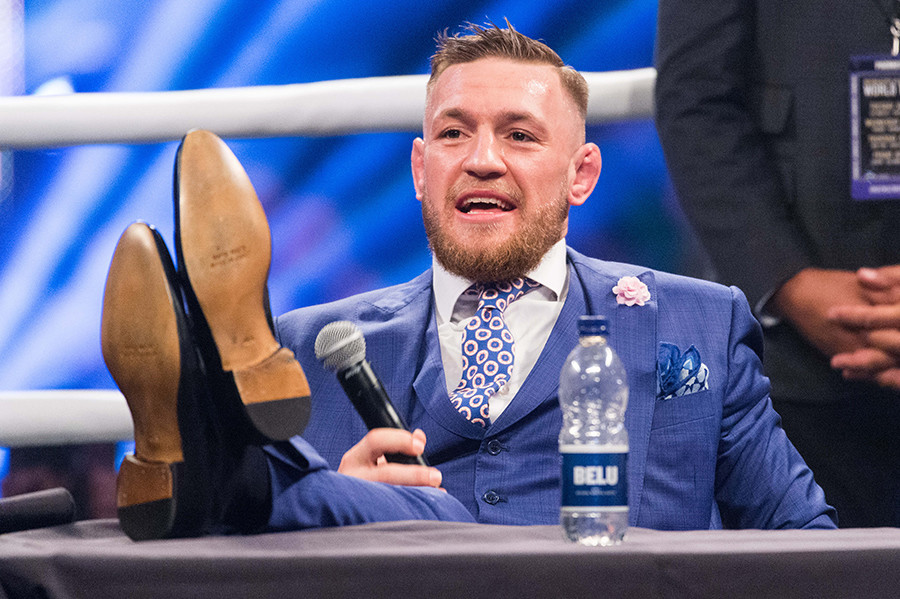 Then there are the fighters themselves. Both are brash self-promoters, both are open about their love of the riches that accompany big fight nights, both have willed this fight into existence.
McGregor first planted the genesis of the Mayweather megafight back in 2015, when still establishing a name for himself in UFC.
The talk gained momentum as the Irishman took a stranglehold on MMA through his brilliant fighting performances and equally eye-catching interviews outside the ring, with razor-sharp trash talk arguably not seen since Ali.
READ MORE: Illegal blow disqualification will cost McGregor 90% of fight purse – Mayweather
He has met a willing opponent in 'Money' Mayweather. The American has never been shy in proclaiming financial gain as his primary motivation in the ring, and the prospect of stepping out of his 2015 retirement for one last mega payday was always likely to be too tempting to resist.
While the trash talk in the relentless buildup to the fight has skirted the borders of acceptability, if not transcended them – witness accusations of McGregor's racism and Mayweather's homophobic slurs – it has all added to the unstoppable momentum that will draw in millions on Saturday night.
No other pairing could have made this happen.
Hype merchants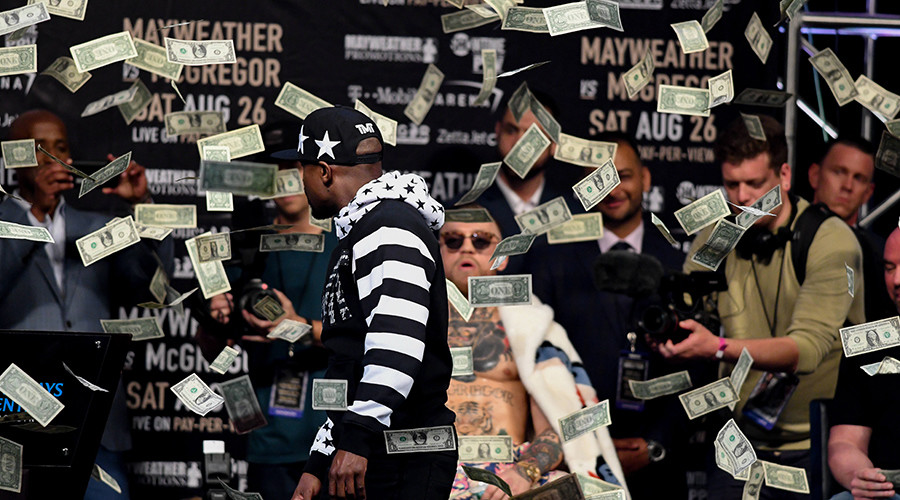 Those around the fighters have also done a spectacular job of making the bout happen.
Despite it being a lopsided non-contest on paper, we now somehow have a situation where many are giving McGregor a chance.
Central to that is the drip-feed of information about McGregor's training camp.
Doubt that McGregor can cut it in the boxing ring? Just check out footage UFC chief Dana White posted of him vanquishing sparring partners. Think McGregor doesn't know the first thing about boxing? Listen to his protestations about being in the ring as a youngster.
READ MORE: Mayweather munches burger while dishing out insults ahead of McGregor megabout
Unwittingly or not, Mayweather has also added to the impression that he might just be there for the taking. Think that the American is simply too good to be beaten? Listen to his quotes about not being the fighter we once was, look at the photos of him munching on a hamburger just days before the fight, consider the promotional attention he has paid to various business distractions during the buildup.
So much so, in fact, that many pre-fight fan polls – including RT's – now show that large numbers of us are giving McGregor a shot at beating Mayweather.
While Mayweather is still 1-4 to win with most bookmakers, with McGregor at 3-1, some have reported of more and more money flowing to McGregor.
The hype appears to have worked; the carefully-choreographed pre-fight promo has captured the attention of the millions who will be watching on Saturday and will help push the fight past the $500 million revenue barrier.
Whether or not a real contest materializes on Saturday, those who organized it will care little – they will be too busy counting the profits.