'Irresponsible': Floyd Mayweather condemned for giving homeless man $1,000 (VIDEO)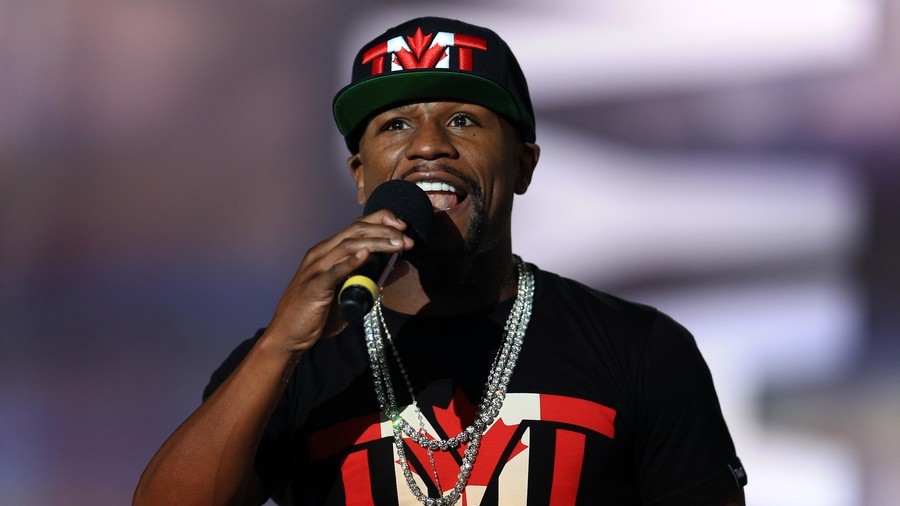 Boxing icon Floyd Mayweather has been branded "irresponsible" for giving a homeless man in a wheelchair $1,000 as part of a charity campaign.
The retired boxer posted a video on his Instagram account showing him getting out of a car to hand the cash to the man, who was slumped in a wheelchair by the side of the road.
READ MORE: Return of the May-Pac? Mayweather announces comeback 'this year' for '9-figure' Pacquiao rematch
Speaking into the camera, Mayweather says he has just emerged from one of his 'Girl Collection' gentlemen's clubs and is "going to go into my bag and give back" as part of the '#s4fe' charity campaign in the US.
"I want every celebrity to give back. It's the give back challenge," the 41-year-old former fighter adds.
He then approaches the man, who at first appears unresponsive before rousing himself as Mayweather counts out $1,000 from a wad of cash.
"God bless you," the man mumbles before receiving the money and then attempting to reach out and hug Mayweather, who instead gives him a fist bump.
The former five-weight world champion then addresses the camera again, saying: "It's about giving back to American citizens" before the video ends.
In the caption to the video - which has been viewed more than 700,000 times - he challenges other celebrities to follow suit, tagging comedian Kevin Hart and LA Lakers player Lance Stephenson.
READ MORE: UFC star Khabib Nurmagomedov under fire for clip showing homeless people doing push-ups (VIDEO)
While some have praised the ring king for his act of generosity, others on social media have branded him "irresponsible," claiming that the homeless man in the clip was in no condition to use the money.
Others slammed Mayweather for appearing to recoil at the man's attempt to hug him, saying the charity bid was "enough to make your skin crawl."
Some Twitter users even implied that the donation was a miserly one, given that the US star is estimated to be worth up to $1 billion and caried the moniker 'Money Mayweather' in his fighting days.
Mayweather hung up his gloves for a second time after defeating Irish MMA star Conor McGregor in a money-spinning bout in Las Vegas last August, improving his perfect record to 50-0.
READ MORE: McGregor issues savage snub to Mayweather after offer to help prepare for UFC comeback
However, he could be set to return to the ring for another comeback to face Filipino former foe Manny Pacquiao, with reports the pair are in advanced negotiations for a rematch of their 2015 superfight.