Joanna Jedrzejczyk outraged after question about Muay Thai losses to Valentina Shevchenko (VIDEO)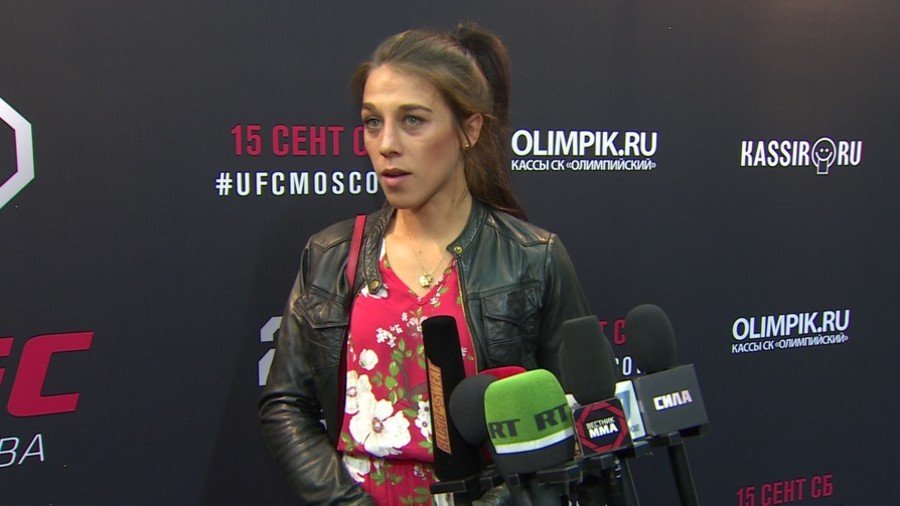 While UFC's former strawweight champion Joanna Jedrzejczyk says she is 'totally open' to fight Valentina Shevchenko in the octagon, she gave quite the reaction when asked about her Muay Thai bouts with 'The Bullet'.
Polish MMA star Jedrzejczyk, who was in Moscow to attend the UFC's debut event in Russia as a special guest, spoke to the media at Olympiyskiy Stadium on Saturday.
READ MORE: UFC Moscow becomes 5th-biggest in promotion's history, biggest ever MMA event in Russia
One of the hottest topics was a possible fight with the 30-year-old native of Bishkek, Kyrgyzstan, Shevcheko. To which Jedrzejczyk, in her own words, is open.
"This fight is not on. Of course, I got an offer, but we will see. I am very open to fight Valentina Shevchenko," said the former number one-ranked pound-for-pound female MMA fighter in the world.
"I always want to fight the best fighters. And I think she is definitely one of the top female fighters in the world. She is a multiple world Muay Thai champion and she is very successful in MMA, so we will see what is going to happen."
Although when asked whether she would be concerned about facing Shevchenko, given their previous three encounters under Muay Thai rules between 2006 and 2008, none of which finished in Jedrzejczyk's favor, she could not hide her emotions.
"Concerned? About what? Did you watch my fights with her?" she asked.
"The last two fights were very close. Man! It was like ten years ago, we are different fighters. We are not gonna meet in the ring, we are going to meet in the octagon. So that's the point.
"So there is nothing I must be concerned about. Should I? Are you?"
You can share this story on social media: