Space race: Usain Bolt wins sprint on zero-gravity flight (PHOTOS, VIDEO)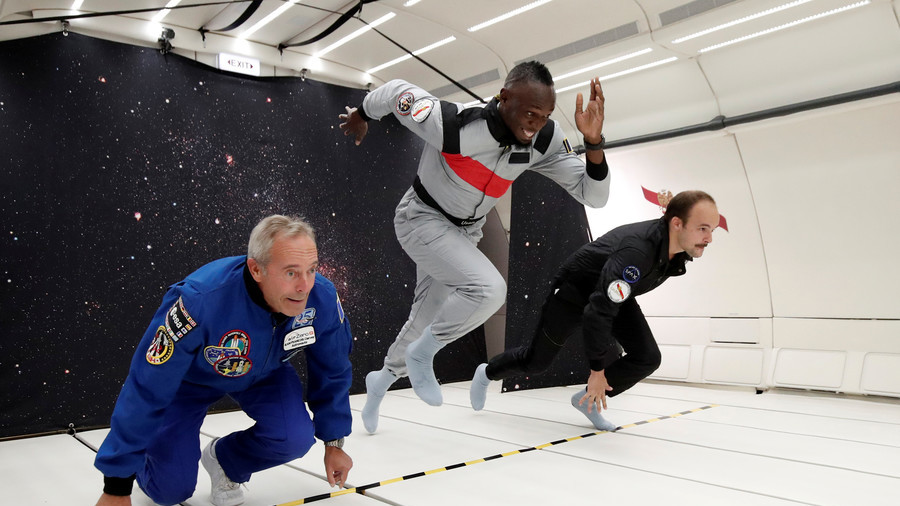 The world's fastest man Usain Bolt has proved he's just as quick without his feet on the ground, testing his sprint skills in near-weightless conditions on a special flight.
READ MORE: Up and running: Usain Bolt makes debut for Australian football club Central Coast Mariners (VIDEO)
The eight-time Olympic champion took a zero-gravity flight over Reims, France, on Wednesday as part of promotion campaign for champagne producer Mumm, which has designed a special space-adapted bottle for space tourists and astronauts.
Aboard the Airbus A310 plane, which is normally used for scientific research, Bolt defied gravity by running a short distance – somewhat awkwardly floating through the air although still beating his two rivals in the improvised race.
"I was nervous but as soon as the first one (move) goes you kind of go 'oh my God, what's happening?'" Bolt said afterwards. "But after the third one I was like 'yeah, it's crazy!'"
The 100m and 200m world record holder also managed to catch a hovering bubble of champagne in his mouth, demonstrating how the newly-designed Mumm bottles can be used in low-gravity conditions.
You can share this story on social media: