Atletico player bites Real Madrid starlet Vinicius Jr on head in furious clash (VIDEO)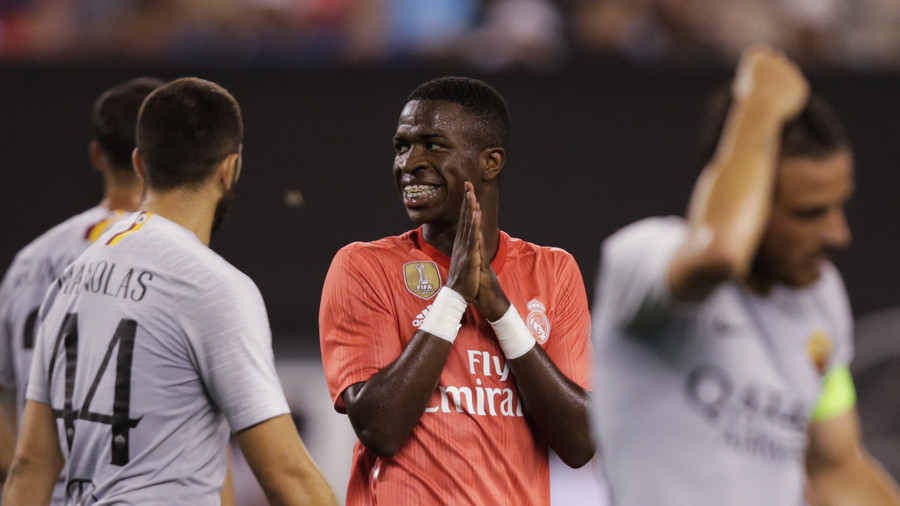 The Madrid B-team derby descended into unsavory scenes on Sunday when Atletico captain Tachi appeared to bite Real Madrid teen star Vinicius Junior on the back of the head in a furious clash.
Vinicius, 18, joined Los Blancos this summer in a €45 million deal agreed last year. He was quick to be inducted into the fierce rivalry with Atletico when turning out for Real Madrid Castilla in the Segunda Division B game against the second string team of their Madrid rivals.
READ MORE: Juventus maintain 100% Serie A start but concerns remain about misfiring Ronaldo
The Brazilian youngster had netted twice in the game – including a superb curled effort for his second goal – but became embroiled in a tussle with Atletico skipper Tachi with the scores level at 2-2 approaching the end of the second half.
With the pair wrestling on the floor, Tachi appeared to sink his teeth into the back of Vinicius' head – prompting the youngster to react furiously as players from both teams became involved.
Both players were then yellow-carded by the referee – much to the anger of the Real Madrid wonderkid.
READ MORE: Up and running: Usain Bolt makes debut for Australian football club Central Coast Mariners (VIDEO)
Vinicius is currently playing with the Real second-string side as the club give him game time before his expected step-up to the first team.