'You have to respect the office': Tiger Woods steers clear of Trump criticism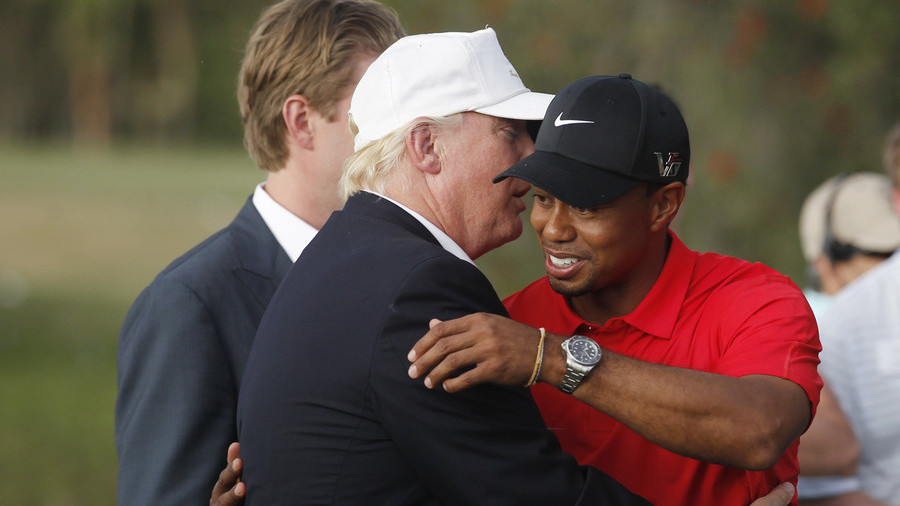 Tiger Woods defended his occasional golfing partner President Donald Trump at the final round of the Northern Trust tournament in New Jersey, saying that, no matter who is in office, the presidency must be respected.
Woods has played rounds of golf with the current US president both before and after his election, including at Thanksgiving last year when he was joined by fellow pros Dustin Johnson and Brad Faxon.
"Well, I've known Donald for a number of years," Woods said during an interview at the Ridgewood Country Club on Sunday.
"We've played golf together. We've had dinner together. I've known him pre-presidency and obviously during his presidency," he said.
Woods has a villa named in his honor at Trump's Doral resort in Miami, Florida.
Reporters pushed Woods to elaborate on his apparently cordial relationship with the president, particularly in light of Trump's "threatening" policy towards immigrants.
"Well, he's the president of the United States," Woods explained. "You have to respect the office. No matter who is in the office, you may like, dislike the personality or the politics, but we all must respect the office."
READ MORE: 'He's filled with energy & high spirits': Deontay Wilder praises disabled fan on trip to N. Ireland
When asked if he had anything further to say about the state of race relations in the US, Woods replied: "No. I just finished 72 holes and am really hungry."
Woods has also played rounds of golf with former Presidents George H.W. Bush, Bill Clinton and Barack Obama, however efforts to secure a golf outing with George W. Bush failed after the leader reduced his golf outings during his second term.