'Working to do good things': Melania Trump offers support to LeBron James after jibe from husband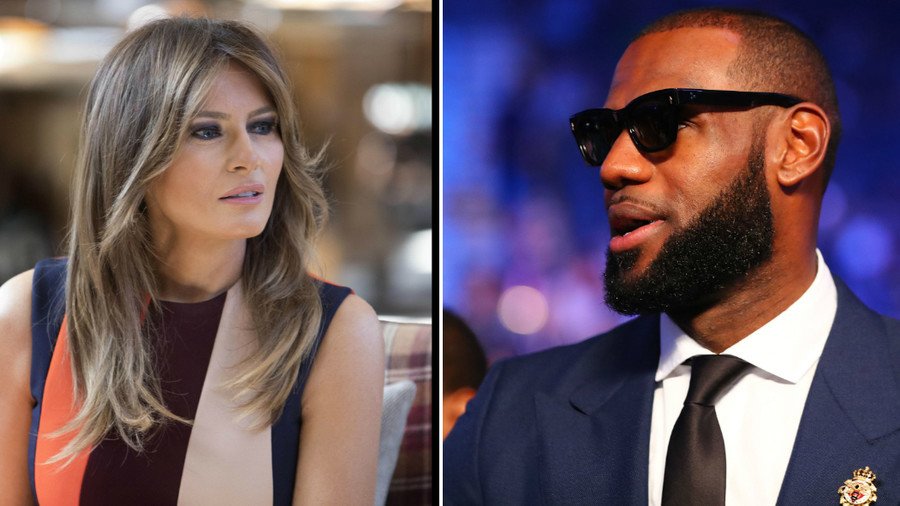 US First Lady Melania Trump has been among those to speak out in support of LeBron James, after President Donald Trump mocked the NBA star's intelligence in a tweet.
READ MORE: Trump mocks LeBron James in Twitter rant over CNN interview
A spokeswoman for the US first lady said that "it looks like LeBron James is working to do good things on behalf of our next generation."
The NBA star recently opened an 'I Promise' school for underprivileged children in his hometown of Akron, Ohio – which the first lady said she would be open to visiting.
The statement followed a Twitter rant on Friday from her husband in response to an interview James had given to CNN.
Speaking to presenter Don Lemon, the La Lakers star had accused the US president of using sport to try to divide the nation along racial lines.
READ MORE: 'Trump is using sport to divide us' – NBA star LeBron James
President Trump responded by branding Lemon "the dumbest man on television" and said that "he made Lebron look smart, which isn't easy to do."
After the statement, current and former stars from the world of sport spoke out in defense of James.
Stephen Curry of the Golden State Warriors, who has also clashed with Trump after snubbing an invitation to the White House as an NBA champion, tweeted his support.
NBA great Michael Jordan – whom Trump said he preferred in signing off his tweet aimed at James – issued a statement through AP in which he praised the four-time NBA MVP.
"I support LeBron James. He's doing an amazing job for his community," the Chicago Bulls legend said.
READ MORE: NBA champions won't be invited to the White House, Trump says
Donovan Mitchell of the Utah Jazz said Trump's tweet was "a sign of an insecure human being" and condemned the US leader for "setting a bad example for our kids."
Support for the 33-year-old James also came from the world of baseball, with Houston Astros infielder Alex Bregman praising the former Cleveland Cavaliers player as a role model, while branding Trump's tweet "embarrassing."
Pro Football Hall of Famer Shannon Sharpe accused Trump of racism, saying his tweet was "beneath the dignity of a sitting POTUS."
Donald Trump was at a campaign rally in Columbus, Ohio, on Saturday, although he did not mention James in his speech.
You can share this story on social media: