Trump mocks LeBron James in Twitter rant over CNN interview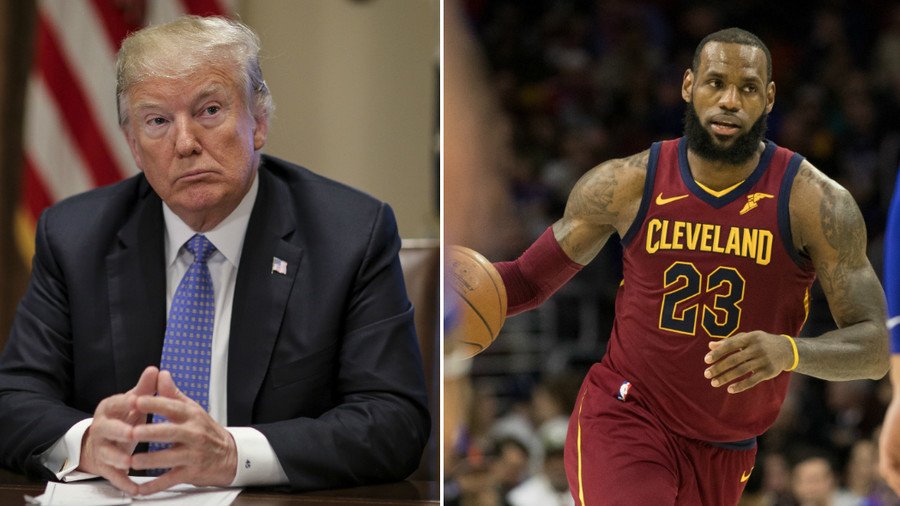 Donald Trump has issued the latest barb in his spat with NBA star LeBron James, responding to an interview the basketballer did with CNN in which he accused the US president of trying to divide the country along racial lines.
In an interview with CNN's Don Lemon aired earlier in the week, the LA Lakers star said Trump had stirred racial tensions in US sports in an attempt to "divide" the nation.
READ MORE: 'Trump is using sport to divide us' – NBA star LeBron James
Trump hit back in a tweet on Friday night in which he mocked James and questioned his intelligence.
Lebron James was just interviewed by the dumbest man on television, Don Lemon. He made Lebron look smart, which isn't easy to do. I like Mike!

— Donald J. Trump (@realDonaldTrump) August 4, 2018
The 'I like Mike' conclusion to the tweet was in reference to the debate over whether Michael Jordan or James should be considered the NBA's all-time greatest.
Trump and James have long traded jibes on social media.
The four-time NBA MVP, 33, branded the US leader"a bum" after he rescinded an invitation for NBA champions the Golden State Warriors to visit the White House last year, amid doubts over whether some players – including star man Stephen Curry – would attend.
U bum @StephenCurry30 already said he ain't going! So therefore ain't no invite. Going to White House was a great honor until you showed up!

— LeBron James (@KingJames) 23 сентября 2017 г.
Last season no invitation was extended, with Curry and James saying that whoever won the NBA finals between their respective teams, the Golden State Warriors and Cleveland Cavaliers, neither set of players would be going because "no one wants the invite anyway."
READ MORE: 'Whoever wins this series won't be going' – NBA rivals unite to turn down Trump White House invite
Trump and James have also clashed over the NFL anthem protests over perceived racial injustice in the US.
The US leader has criticized players who 'take a knee' during the playing of the anthem, calling for them to be banned or fired.
James has said that Trump "doesn't understand the power that he has for being the leader of this beautiful country."
You can share this story on social media: