LeBron James 'played with broken hand' in last 3 NBA Finals games after punching board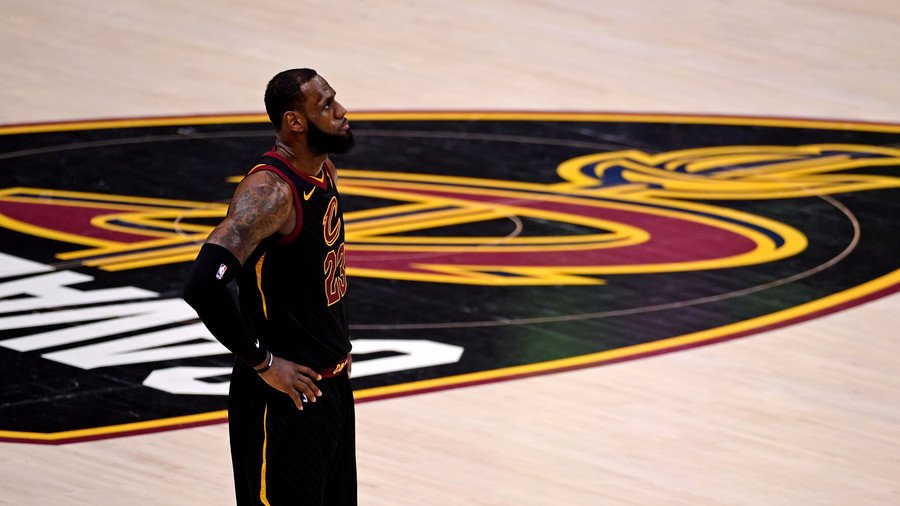 LeBron James says he played the last three games in the Cleveland Cavaliers' 4-0 NBA Finals loss to the Golden State Warriors "pretty much with a broken hand," after punching a blackboard in an outburst after Game 1.
The Warriors claimed a 4-0 series sweep on Friday with a 108-85 win in Cleveland, but James said he suffered the "self-inflicted" injury after the Game 1 loss which led to him playing the remaining games with a damaged shooting hand.
"I let the emotions get the best of me and pretty much played the last three games with a broken hand," James said at press conference on Friday, where he appeared with his right hand in a cast.
Game 1 had seen officials change a key decision to rule against James when the Cavaliers were 104-102 up with 36 seconds left.
The resulting free throws allowed the Warriors to tie the game, and they went on to win in overtime, despite James scoring 51 points.
Three-time NBA champion James, 33, said that his outburst after Game 1 came as a result of anger at "calls made throughout the course of the game."
"Understanding how important a game is on the road for our ball club, what [winning it] would have done for us," he said.
"The way we played, the calls that were made throughout the course of that game, and I had emotions that the game was taken away from us. I had emotions that you just don't get an opportunity like this on the road against Golden State to be able to get a Game 1."
James' future at the Cavaliers is now in doubt, with the 33-year-old a free agent from next month.
After Friday's defeat he said he had "no idea" if he had played his last game for the team with whom he won the NBA title in 2016, and that he would consider the interests of his family when making the decision on his next steps.
The Warriors earned back-to-back NBA titles and their third championship in four years with a comprehensive victory on Friday in Cleveland, with Stephen Curry scoring 37 points.
Warriors forward Kevin Durant was named NBA Finals MVP, after averaging 28.8 points for the series, including a stunning Game 3 in which he scored 43 points and made seven assists.
You can share this story on social media: