'Shut up & dribble': Fox News host slams LeBron James for talking politics (VIDEO)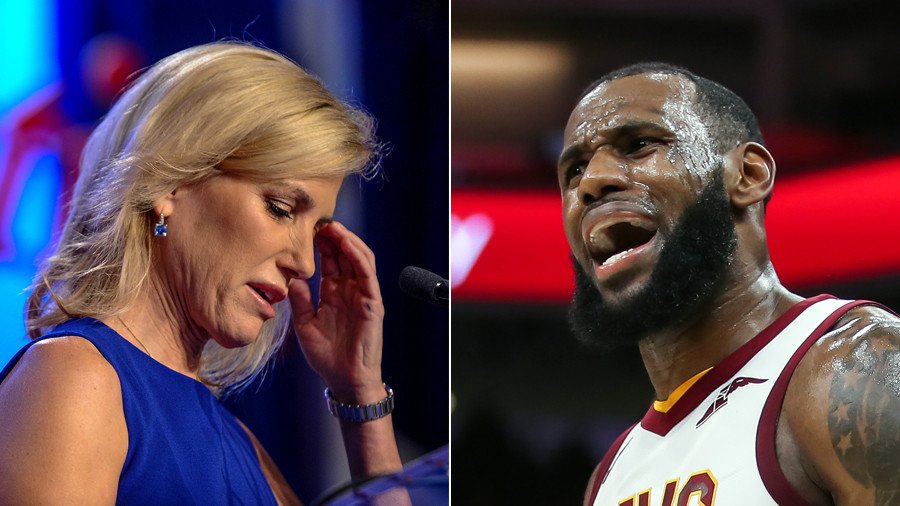 Fox News host Laura Ingraham laid into NBA star LeBron James over his critical comments made about President Donald Trump. Ingraham urged Trump-bashing James to "keep the political commentary to yourself."
Laura Ingraham made the attacks on the Thursday night edition of her Fox News show, The Ingraham Angle.
In the video, which was filmed for James' multimedia platform UNINTERRUPTED, the Cleveland Cavaliers All-Star forward says that the president "is someone who doesn't understand the people. He doesn't give a f**k about the people." James has been vocal about his dislike for Trump in the past.
The video also features Golden State Warriors forward Kevin Durant.
Ingraham was less than impressed with the basketball player's tirade. "This is what happens when you attempt to leave high school a year early to join the NBA. And it's always unwise to seek political advice from someone who gets paid $100 million a year to bounce a ball," she said.
She urged Durant and James to stay out of political debate. "You're great players, but no one voted for you. Millions elected Trump to be their coach. So keep the political commentary to yourself, or, as someone once said, 'shut up and dribble.'"
"Must they run their mouths like that? Unfortunately, a lot of kids and some adults take these ignorant comments seriously," she said.
James campaigned for Hillary Clinton in the 2016 presidential election. In an endorsement published by Business Insider, James wrote, "I support Hillary because she will build on the legacy of my good friend, President Barack Obama."
LeBron James is regarded as one of the greatest basketball players ever, winning a total of three NBA championships in his career. Rising from his humble beginnings in Akron, Ohio, in 2017 James was named by Time as one of the 100 most influential people in the world.
"I never felt I could be the president of the United States, but I grabbed inspiration from that. And this time right now, with the president of the United States, it's at a bad time. And while we cannot change what comes out of that man's mouth, we can continue to alert the people that watch us, that listen to us, [that] this is not the way," James said in his recent video.
Think your friends would be interested? Share this story!
You can share this story on social media: