Donald Trump welcomes Stanley Cup-retaining Penguins to White House as 'incredible patriots'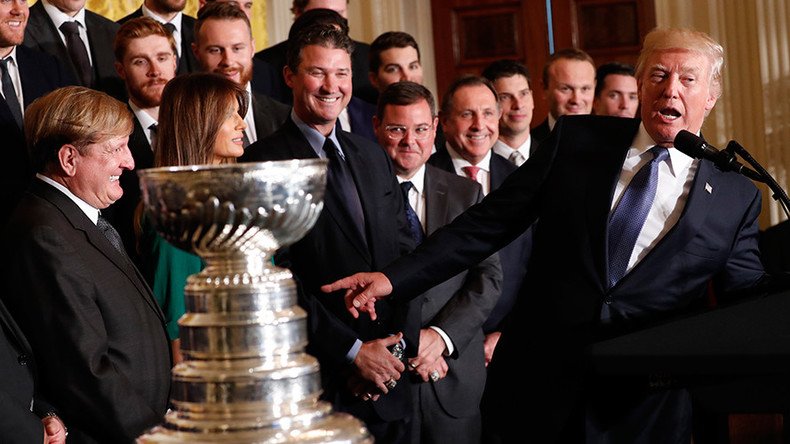 US President Donald Trump praised the reigning Stanley Cup champions, the Pittsburgh Penguins, calling the players "true champions and incredible patriots" during team's visit to the White House on Tuesday.
The president opened his speech saying "By the way, everybody wanted to be here today," causing a ripple of laughter among the players and journalists.
The personal congratulations of the players started with the 2016/17 Playoffs Most Valuable Player, and the team's leading goalscorer last season, Sidney Crosby.
"Sidney, you've built an incredible legacy in Pittsburgh, and congratulations. Keep it going. Fantastic," Trump said, while also teasing the team's co-owner, the legendary Mario Lemieux, saying that Crosby is getting close to beating his records.
The president also personally addressed the playoffs' leading point-scorer, Evgeni Malkin, calling him "tough and strong" and adding that he "looks like he's a basketball player."
Trump also called the Crosby-Malkin duo a "two-headed monster."
Trump called the Pittsburgh Penguins winning squad "true champions and incredible patriots," possibly referring to the ongoing wave of the national anthem protests in the National Football League (NFL), which he has previously criticized openly.
Trump has been vocal on the issue in the last month, recently questioning the NFL's tax breaks among other things.
"Wouldn't you love to see one of these NFL owners, when somebody disrespects our flag, to say, 'Get that son of a bitch off the field right now. Out! He's fired. He's fired!'" he said during a speech at a rally in Alabama at the end of September.
However, the wave of anthem protests – started in the NFL by Colin Kaepernick last season – has now reached the NHL.
Tampa Bay Lightning forward J.T. Brown performed a raised fist protest during the 'Star Spangled Banner' before his team's game against the Florida Panthers last Sunday.
NHL Commissioner Gary Bettman stated that he has no issues with protests, and that he respects players political views, adding that social issues "are a matter of individual belief and individual choice."
READ MORE: NHL player 'receives death threats' after becoming first to join anthem protest
In September, Trump withdrew the White House invitation to the National Basketball Association (NBA) champions the Golden State Warriors, after the team's guard and the two-time NBA MVP Stephen Curry said he hesitated over whether to make the traditional champions' trip to Washington.
At the time, Cleveland Cavaliers star LeBron James intervened with a Tweet in which he called the American president a 'bum.'
U bum @StephenCurry30 already said he ain't going! So therefore ain't no invite. Going to White House was a great honor until you showed up!

— LeBron James (@KingJames) September 23, 2017
"Going to White House was a great honor until you showed up," he added in the tweet.
You can share this story on social media: