'I let him escape with his life': Ex-UFC fighter's near-deadly run-in with 'meth-head' thief (VIDEO)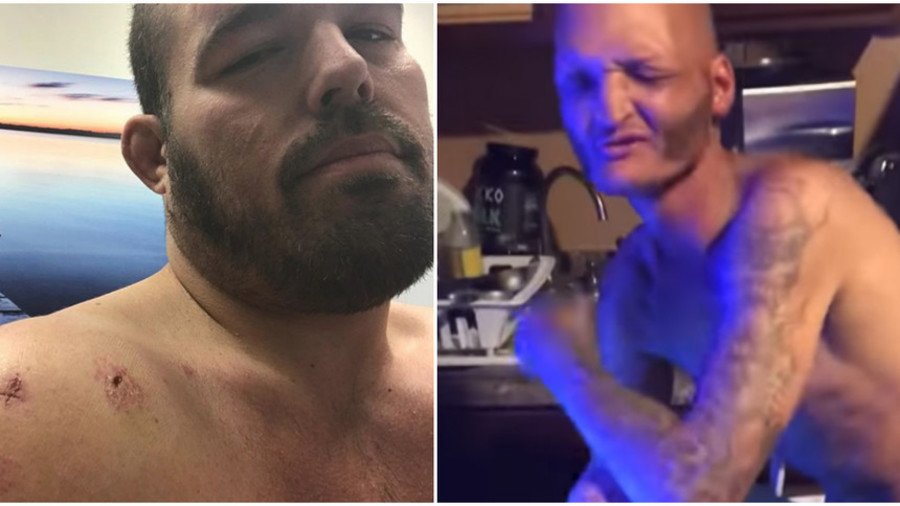 Few people have burgled the home of a mixed martial artist armed with a gun and lived to tell the tale. Thanks to ex-UFC fighter Dean Lister's mercy, however, one drug-addled thief became the latest member of that exclusive club.
READ MORE: 'Conor McGregor will retire if Khabib beats him' – MMA analyst Robin Black (VIDEO)
Lister, a five-time competitor in MMA's premier promotion, shared a video of his meeting with an extremely gaunt-looking intruder at his apartment in San Diego, California. In Lister's own words, "At 8pm Pacific Time, here in San Diego I walked in on a meth head ripping me off."
The meeting made for an interesting matchup. Lister, a black belt in jiu-jitsu and two-time world champion submission wrestler, apparently walked in on the intruder, who was seemingly high on drugs and sporting nothing more than a bald head, numerous tattoos and wearing only shorts.
Round one begins in Lister's apartment, where he finds the emaciated figure standing in the middle of a pile of belongings strewn all over the floor, apparently catching the stranger in the act of robbing his house.
Shocked, the daring intruder attempts to talk his way out of trouble, claiming that he has, among other excuses, just snapped out of a trance. But his story is as chaotic as his entrance, claiming that he had sought refuge from "the cops" in the apartment, which he had mistaken for a church.
Becoming increasingly frustrated, the encounter ends with the intruder taking grave offence at Lister filming him, and in a flash of rage raises a metal pipe in his right hand in protest. Lister had something up his sleeve to aid him against the thief.
READ MORE: 'Whoever wins this fight will win the championship': Sonnen stakes are high for Fedor bout (VIDEO)
"At the end of the video, he raises a pipe at me, off camera I drew a sidearm and he stopped advancing toward me," Lister said of the events that unfolded. "I let him escape with his life through a window. Cops said I was legally good if I killed him. But is that what I want?
"In the end, he stole plenty of $$$$$ from me. This video is for 'hopefully' anyone who knows who this meth head is. White dude, skinny, meth'ed out with his tattoos. Police are on it but if anyone knows who he is please help me,,, thank you very much," he wrote on social media.
Lister was commended for his bravery and compassion online. He later posted on Instagram "The look of evil? Or is it the look of a desperate man who needs help more than anyone I know? I hope he finds his way one day." The robber may never know how lucky he was.
You can share this story on social media: