'Whoever wins this fight will win the championship': Sonnen stakes are high for Fedor bout (VIDEO)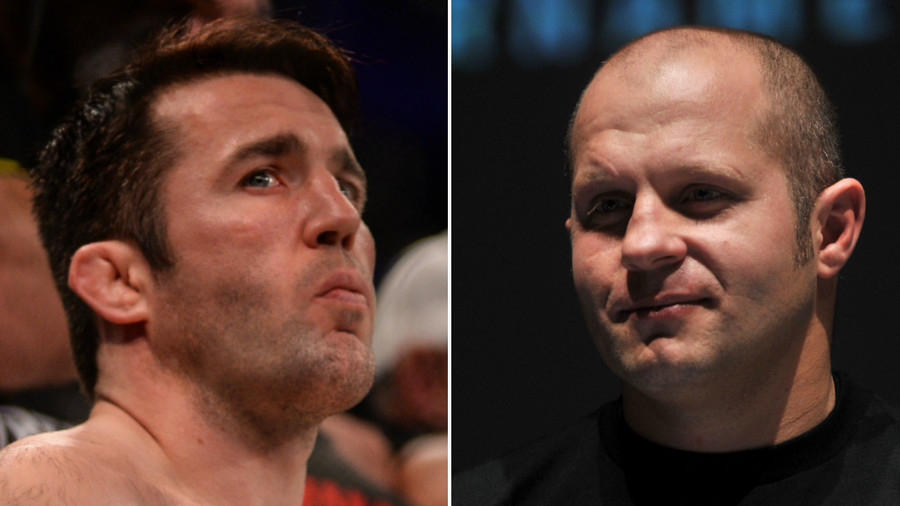 Chael Sonnen's upcoming Bellator MMA Grand Prix semi-final with Fedor Emelianenko will determine the eventual winner of the organization's heavyweight title, and the American plans on making a statement against the Russian legend.
READ MORE: Fedor Emelianenko v Chael Sonnen Bellator semi-final bout booked for October
Sonnen has never won a world title at middleweight or light heavyweight, the two weight classes in which he has competed throughout the majority of his career but if he wins his next two bouts under the Bellator banner, the Oregonian will lay claim to Bellator heavyweight gold. First, though, he must get through Russia's Fedor Emelianenko, arguably the best heavyweight to ever fight inside of a cage.
Speaking to RT Sport about his October 13 clash with 'The Last Emperor', Sonnen said that he doesn't yet have a strategy to defeat the fighter who has been defeated just five times in 43 professional fights.
"I never really think about the opponent very much, I just try and get myself as prepared as I can be," Sonnen said. "I'll be looking to take him off of his feet, I know that's what I'm going to do. I don't know what his strategy will be."
Emelianenko made his name in Japan's PRIDE organization, where he tore through their heavyweight roster without defeat but as he has aged his air of mystery has receded somewhat and his mortality has been apparent, such as the 74-second defeat he endured at the hands of Matt Mitrione in New York City a little over a year ago.
Sonnen though, isn't underestimating the challenge ahead of him even if the Russian didn't exactly appear imposing when they met in the cage right after Emelianenko's victory over Frank Mir.
"I thought he was a little bit taller," Sonnen explained. "I've never been face to face with him like that. He's shorter than a normal heavyweight, but he's not a short guy. Most heavyweights are a little taller than him, which make them a little easier to get underneath. His shortness, it's not perfect for my style and what I like to do but that was all I really took out of it."
READ MORE: 'Fedor Emelianenko is still extremely dangerous' – Frank Mir talks Bellator Grand Prix (VIDEO)
Bellator 208 on October 13, the scene of their meeting, will determine the eventual winner of the tournament, Sonnen says, even if the other half of the bracket (Matt Mitrione v. Ryan Bader) is filled with talent.
"I think Fedor is the most dangerous one, whoever wins this fight is likely to win the championship. I think in a different circumstance this would be the final bout in the championship but, you know, I think all the guys are really good. We're fighting for a world championship, Ryan Bader already has a world championship so I wouldn't dismiss him.
"Mitrione is just a really big guy, he took out Roy Nelson. The eight guys were really hard, the four guys left are the best of the best."
You can share this story on social media: