'$10k and you can quit today': Ex-world boxing champ's offer to fast-food workers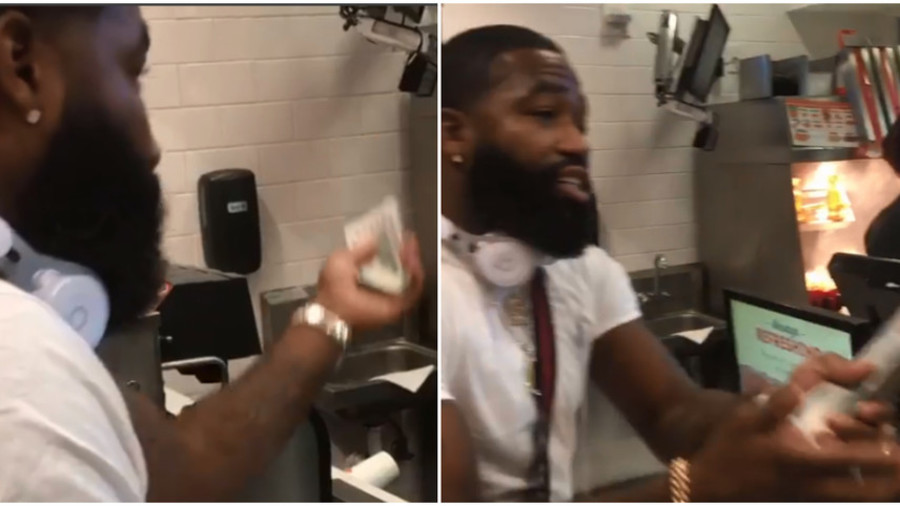 Former four-weight world champion Adrien Broner has caused an online stir after he filmed himself offering employees at a fast-food restaurant $10,000 cash to quit their jobs on the spot.
READ MORE: 'Conor McGregor will retire if Khabib beats him' – MMA analyst Robin Black (VIDEO)
Broner, who is known as 'The Problem,' has held world belts at super featherweight, lightweight, light welterweight and welterweight. He posted the video to his Instagram page with the caption: "I tried to bless someone today."
In the footage, Broner can be heard saying: "I got a proposition for you: I got 10,000 cash and you can quit today," while waving a wad of notes at clearly embarrassed employees behind the counter.
In the background, other customers can be seen completing their orders, while one woman exclaims: "I would quit my job right here and now," only to be rebuffed by Broner, who replies: "Nah, you got work to do." None of the employees in the video can be seen to accept the offer from the boxer.
READ MORE: 'Whoever wins this fight will win the championship': Sonnen stakes are high for Fedor bout (VIDEO)
The Ohio-born fighter, who is also known as 'About Billions' with reference to his initials, has faced a bitter backlash on social media, with many accusing the boxer of being highly insensitive. Others said they would have accepted the offer.
Earlier this month, Russian UFC star Khabib Nurmagomedov was admonished over a video showing his cousin appearing to offer homeless men in the US money to do push-ups. The UFC fighter is said to be heard laughing in the background.
You can share this story on social media: