The Tooth Fury: Former heavyweight champ Tyson knocks out trainer's tooth, pays dentist bill
Published time: 2 Aug, 2018 16:38
Edited time: 27 Aug, 2018 20:14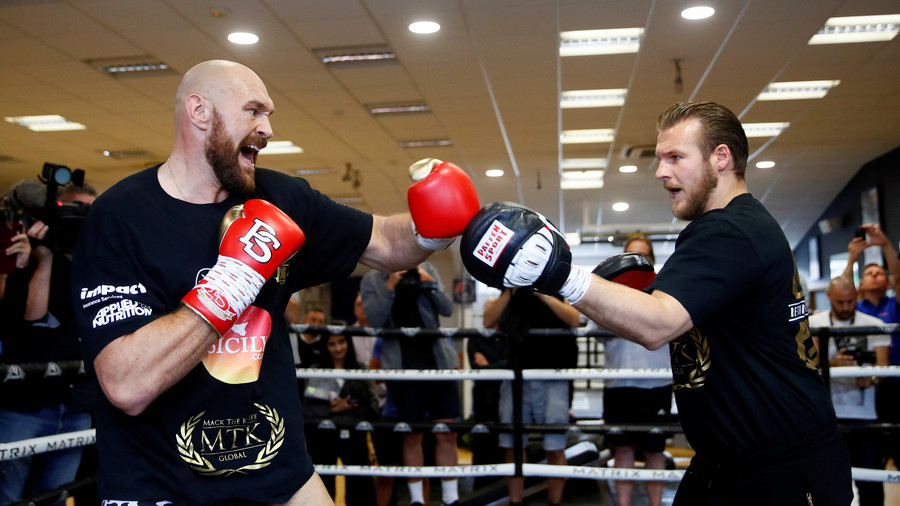 Former world heavyweight champion Tyson Fury, whose boxing comeback continues in Northern Ireland later this month, paid for trainer Ben Davison's trip to the dentist's chair after connecting with a heavy uppercut in training.
The 29-year-old fighter is currently readying himself for just his second bout since since winning the heavyweight title from Wladimir Klitschko in late 2015, where he will take on Italy's Francesco Pianeta in Belfast on August 18, and judging by the damage he has been doing in training, his coach says that he is on course to be back to his best for his latest return to the ring.
"I was calling a few combinations, he's [Fury] got right into the groove of it," Davison said of one particularly painful training session to The Sun.
"I've asked him to throw a hook to the body then another hook to the body, Tyson got it mixed up and thought I called for an uppercut – he whipped round to the body lifted it up and hit me with a right uppercut.
READ MORE: 'Better than the boxing': Bizarre fan fight breaks out during Tyson Fury comeback (VIDEOS)
"He caught me on the chin, as he hit me to the body I dipped with it, as I've dipped with it he lifted one up and took one of my teeth out. He did cover the dentist bill though. About £1,000 for the tooth."
Davison said that Fury maintains that his spot of amateur dentistry was accidental, though Davison jokes that he can't be sure that his fighter wasn't trying to teach him a lesson.
READ MORE: 'Don't bother me, that's the best support you can give': Boxer Usyk rejects 'Hero of Ukraine' medal
"He lied to me, at first he told me I passed out – I thought what's going wrong, then I felt a big hole in the side of my mouth where my tooth had come out and I knew what had gone on then. He's adamant he didn't do it on purpose but the jury is still out."
If, as expected, Fury is victorious against Pianeta later this month it could set up a blockbuster heavyweight showdown between him and undefeated WBC champion Deontay Wilder. Fury announced on Twitter that the two were in "deep negotiations" over a potential showdown.