'Don't bother me, that's the best support you can give': Boxer Usyk rejects 'Hero of Ukraine' medal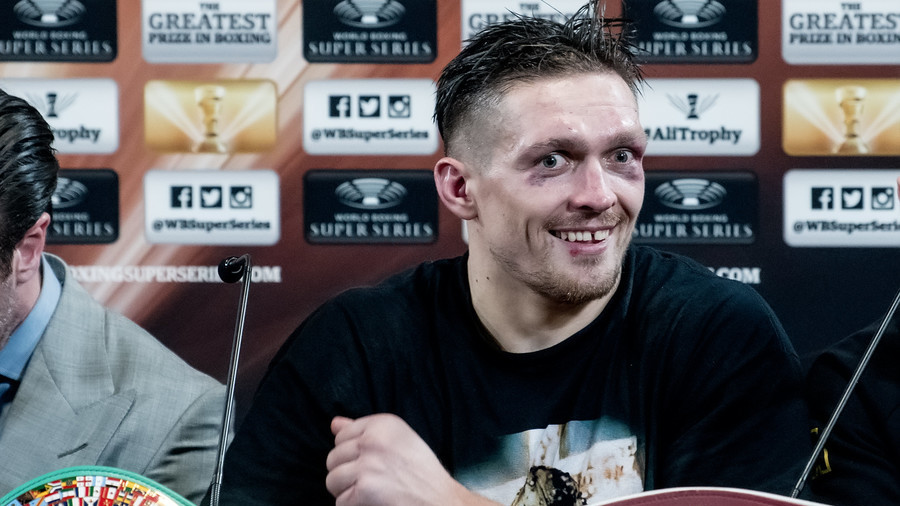 Undisputed world cruiserweight boxing champion Alexander Usyk has emphatically rejected the 'Hero of Ukraine' medal – the country's highest honor – instead telling the government to "not bother" him.
Ukraine Prime Minister Volodymyr Hroysman had wanted to award Usyk the honor after he unified the WBC, WBO, WBA and IBF 200 lbs titles with victory over Russia's Murat Gassiev in the World Boxing Super Series (WBSS) final in Moscow on July 21.
The 2012 Olympic gold medalist, who also clinched the Muhammad Ali trophy with victory in the fight, rebuffed the offer as superficial, maintaining he is already a "hero" to his people, but then went onto claim he didn't deserve such a title.
"Do not bother me and that is the best support you can give me," Usyk told journalists in Kiev on Wednesday, rferl.org reported. "The hero title? I do not need any title, as for my people, for a certain part of my country's people, I am a hero.
READ MORE: 'Why not start with Bellew at heavyweight?' - Undisputed cruiser champ Usyk on future plans
"There is no need for any additional insignia. I do not need the insignia that you are giving around to those who both deserve and don't deserve it," the 31-year-old southpaw added.
Aside from earning plaudits from Hroysman, Usyk was also congratulated by Ukrainian President Petro Poroshenko. But Ukrainian MP Vitaly Kupry admonished Usyk, who was born in Simferopol, Crimea, for not calling for the peninsula to be "returned" to Ukraine in his post-fight presser immediately after the Gassiev bout.
"I congratulate you on this personal victory over a Russian boxer," Kupry wrote. "Unfortunately, I must let you know, that the patriotic Ukrainian society received this fight in a very ambiguous manner.
"Many expected from you a separate statement in the enemy's lair, which called for the aggressor to stop the war in Donbass, return Crimea to Ukraine, free the political prisoners and prisoners of war and so on," he added.
READ MORE: Tyson Fury says deal 'very close to being done' with world champion Deontay Wilder
The fighter himself has previously stated that he does not "divide" the Russian and Ukrainian people, preferring to include them in the umbrella term "Slavic people". He is a member of Orthodox Christian movement 'Forty times forty', which has strong ties to Russian churches, particularly in Moscow.