'Fighting in Moscow absolutely does not faze me' - Ukrainian Usyk on $50m WBSS final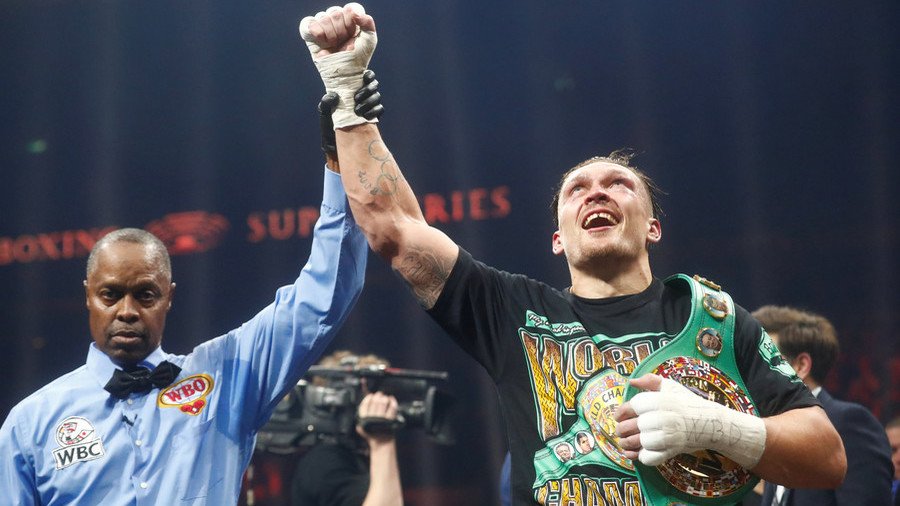 WBO & WBC Cruiserweight world champion Alexander Usyk says he is unfazed at the prospect of fighting fellow champion Murat Gassiev in the World Boxing Super Series final in Moscow this Saturday with $50m prize money at stake.
Ukrainian Usyk takes on Russian IBF & WBA champ Gassiev in a clash of the world's best cruiserweights for the undisputed 200 pound championship and the right to own the Muhammad Ali trophy in the WBSS final at the Russian capital's Olimpiyskiy Stadium.
READ MORE: Alexey Oleynik to face veteran Mark Hunt in main event of UFC's first Moscow show
The final had been originally scheduled for May in the Saudi capital of Jeddah, but negotiations took place for the final to be held in a more convenient location for the two boxers, with Moscow eventually being settled upon, just one week after the city hosted the 2018 World Cup final. Usyk has underlined that fact is not something he is losing sleep over.
"It absolutely does not faze me that we will fight here in Moscow," Usyk said at the pre-fight press conference at Moscow City International Business Center. "It's good that this fight is taking place. It's normal I think to just go someplace and box there.
"I would like for there to be as many as these fights taking place as possible because the the desire of young people to do boxing would increase," the 31-year-old added.
The tournament's climax comes after both boxers earned final berths by coming through quarter final and semi final matchups in a tournament format dubbed "The Champions League of boxing".
Usyk has been something of a road warrior in his professional career; the southpaw won his first world title by wresting the WBO strap from Pole Krzysztof Głowacki in Poland before beginning his route to the final by defeating German veteran Marco Huck in Berlin and then traveling to Latvia to dethrone WBC champ Mairis Briedis in Riga.
Fighting home favorites in their back yard seems to be the norm for Usyk, whose career of 14 wins from 14 fights, with 11 of them by way of knockout, is still only in its fledgling stages, despite having seen him become ranked as one of the top 10 boxers in the world pound for pound and number one in his weight division.
The 2012 heavyweight Olympic gold medalist is looking to become the first ever winner of the 'Muhammad Ali trophy', the tournament's award named in honor of the iconic three-time world heavyweight champion, which holds personal weight for the fighter.
"I saw how [Ali] fought. My coach told me 'you need to be like him, to be light on your feet'. How Muhammad Ali lived, how he sacrificed things, even boxing, for other people is so positive, so it's very respectable," Usyk said.
When asked if he has thoughts of emulating his hero Ali and making the jump to heavyweight, Usyk was typically laconic in his confirmation: "Yes I have thoughts," the enigmatic Ukrainian laughed to the crowd.
Usyk's preparation for the fight has perhaps not been ideal; it was announced last week that the fighter had parted ways with trainer Anatoly Lomachenko, father of close friend and pound for pound elite star Vasyl Lomachenko.
Usyk was philosophical in his thoughts on the matter. He said: "Anatoly is a very close person to me as a friend and as a father. I always ask him for advice, but always reminds me to make his own final decisions, he tells me I am 'a big boy' and must decide myself."
Opponent's don't come much tougher than Abel Sanchez-trained Gassiev for Saturday's fight. Gassiev is fighting his third fight from his last four in Russia having won his IBF crown by beating Denis Lebedev and the winning his semifinal match against Cuban Yunier Dorticos in Sochi by spectacular 12th-round stoppage in a fight of the year contender.
You can share this story on social media: