'Better than the boxing': Bizarre fan fight breaks out during Tyson Fury comeback (VIDEOS)
Published time: 10 Jun, 2018 12:02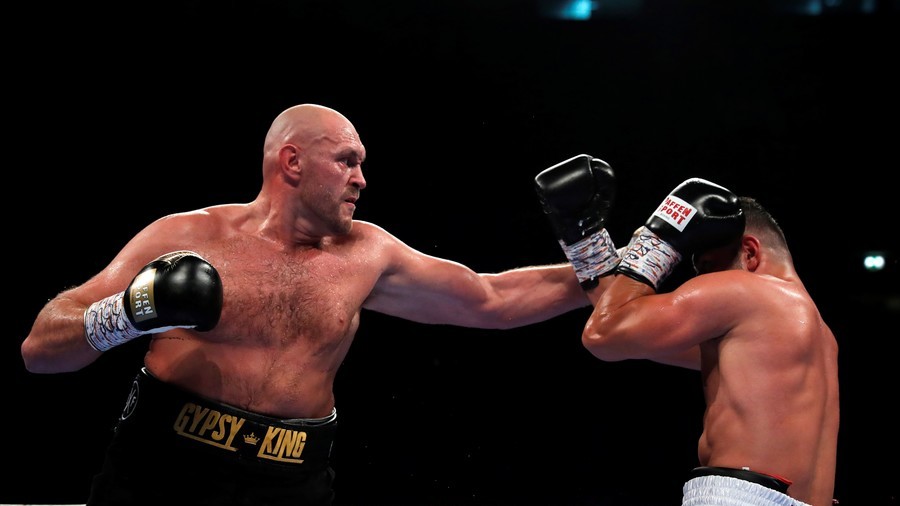 Tyson Fury's return to the boxing ring was marred by bizarre crowd trouble, which saw fight fans turn on each other and brawl in the middle of the Manchester Arena.
Fury's 32 month absence from the sport - in large part due to a doping ban - ended with an easy victory over Albanian opponent Sefer Seferi in the fourth round on Saturday night. And if events in the ring were rather tame, actions by fans in the crowd could be described as ferocious, as people clashed near the ring.
In footage verified by RT.com, a group of up to 15 people can be seen engaging in a vicious punch up away from the main event. In one clip, men can be seen hurling themselves over chairs as the brawl, which unfolded during the second round of the boxing match, escalated.
Mid fight, former heavyweight champ Tyson Fury and his opponent even appeared to look at the punch drunk punters as they landed punches on one another.
One fan argued that the action in the crowd was better than what was on show in the ring. Meanwhile, another spectator pointed out how the fan fights could be watched on a broadcaster's 360 video app.
Following his victory, the British boxer described the return to the ring as 'fantastic'. Fury could now face former WBC world cruiserweight champion Tony Bellew as he gears up towards a heavyweight clash.
Like this story? Share it with a friend!