High stakes: NBA becomes first US league to get betting sponsor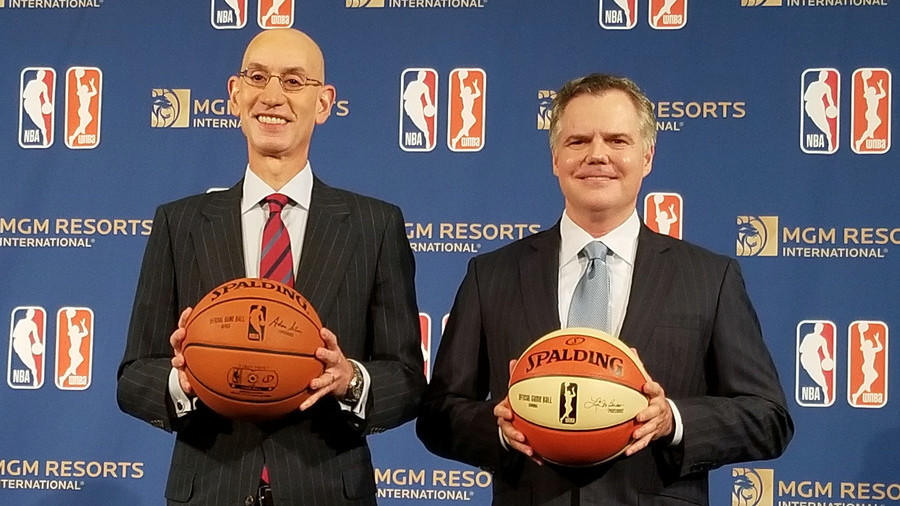 The National Basketball Association (NBA) has become the first American professional sports league to strike a sponsorship deal with a gambling partner, after reaching an agreement with MGM Resorts International.
On Tuesday, NBA Commissioner Adam Silver officially announced cooperation with the Las Vegas-based casino giant during a news conference in New York City.
READ MORE: 'Trump is using sport to divide us' – NBA star LeBron James
As part of the newly-signed contract, MGM will be allowed to use official NBA stat data on its betting platform while offering wagers on games. It will also develop cooperation with the league to prevent fraud and game-fixing.
"Let's take advantage of this opportunity and do something historic and that is to enter into the first commercial partnership between a gaming establishment and the NBA," Silver said.
"What this relationship entails is access to official data for the many casinos that MGM operates, it is the use of the NBA's intellectual property and as we discussed before we are very focused on integrity provisions to protect our fans and to protect those who choose to engage and bet on the NBA," he added.
The league in return will promote MGM Resorts on its social media platforms and digital assets, including NBA TV, NBA.com, and the NBA App.
READ MORE: 'More wholesome': Mavericks' cheerleaders to wear 'less revealing' outfits after harassment scandals
The announcement comes less than three months after the US Supreme Court overturned a federal law prohibiting sports betting in most states, potentially paving the way to legal authorization of gambling across the country.