'He is the biggest coward in the world': Diego Maradona criticizes nephew in live TV rant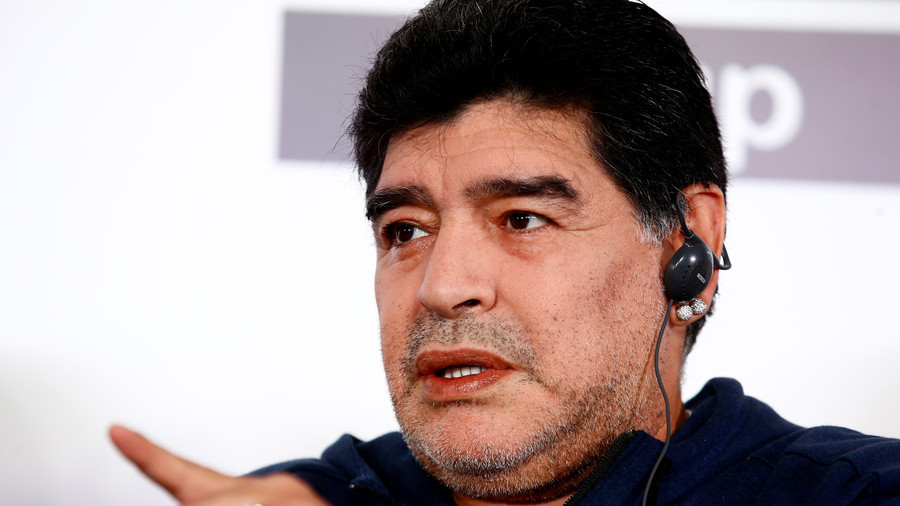 Argentina legend Diego Maradona has called into national TV to call his nephew, Walter Christian Machua, 'the biggest coward in the world' after he commented on Maradona's engagement to 28-year-old Rocio Oliva.
Maradona, 57, went live on air on Canal 9 show 'Confrontados' with a barrage of insults and accusations aimed at Machua, the son of his sister Rita, and defended his relationship with Oliva.
"I'm watching this number-one coward, this nephew that I have," Maradona said, The42 reported. "I'm laughing at how you put together a show with this false thing, with him. He is someone whose mother can't see him and who hasn't seen me for a long time. He broke lots of my cars.
"He's the biggest coward in the world because he hides," Maradona continued. "Why do you talk about me even if your mother does not want it? I get married when I decide. When I get married, I will ask for Rocio's hand; I will ask her for her and not you."
READ MORE: Maradona offers $10k for info on man who 'killed' him at FIFA World Cup
This is the latest in a series of public incidents involving the 1986 World Cup winner. Maradona, who was recently appointed chairman of Belarusian club Dynamo, made several headlines during the World Cup in Russia for his conduct at various stadiums, including flipping off fans during Argentina's win over Nigeria.