'Pack of dogs': Liverpool fans left battered & bloody after attack by masked thugs in Kiev (VIDEO)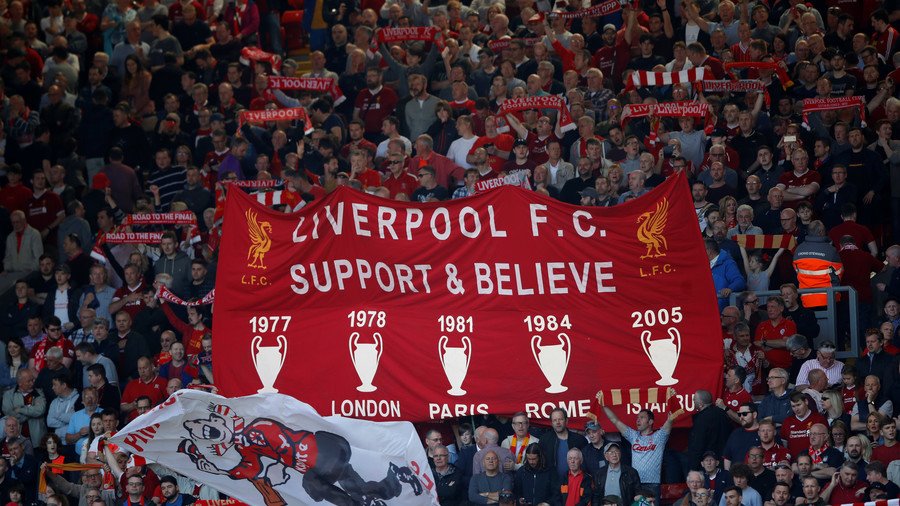 Masked thugs in Kiev have attacked Liverpool fans in the city for Saturday's UEFA Champions League final.
A video, published by the Mirror, shows a 20-strong gang throwing glasses, tables and chairs, causing their targets to scatter. Two men were arrested while others were able to flee the scene without being detained.
Witnesses described the troublemakers as a 'pack of dogs' as they laid into Liverpool fans who were eating dinner at a restaurant called Rooster Grill, not far from the final venue Olimpiyskiy Stadium, the Independent reports.
Liverpool fans were left battered and covered in blood with wounds to their heads and necks as they ran for cover.
Just seen the news that Liverpool fans attacked by a group of 20 hooligans after 8.30pm tonight in the Ukrainian capital while in a quiet restaurant...Shocking stuff pic.twitter.com/MKp0EH3can

— Anything Liverpool (@AnythingLFC_) May 24, 2018
Two foreign fans were injured at the establishment, police reported. A statement from Ukrainian police said: "In the course of the conflict, two foreigners suffered injuries," the Mail Online reports.
The attack raises fears over fan safety before Saturday's final, where Liverpool meet Real Madrid.
READ MORE: Meet the men aiming to break the city of Liverpool's sporting heart this weekend
Jurgen Klopp's Liverpool are aiming for their sixth European title against Zinedine Zidane's Real Madrid, who are looking to claim an unprecedented third Champions League title in a row.
On Thursday, it was reported that around one thousand Liverpool fans have been left stranded in the UK amid travel chaos stemming from cancelled flights over a landing spot dispute between travel companies.
You can share this story on social media: