Double-dinho: Brazil legend Ronaldinho 'to marry two women at same time' (PHOTOS)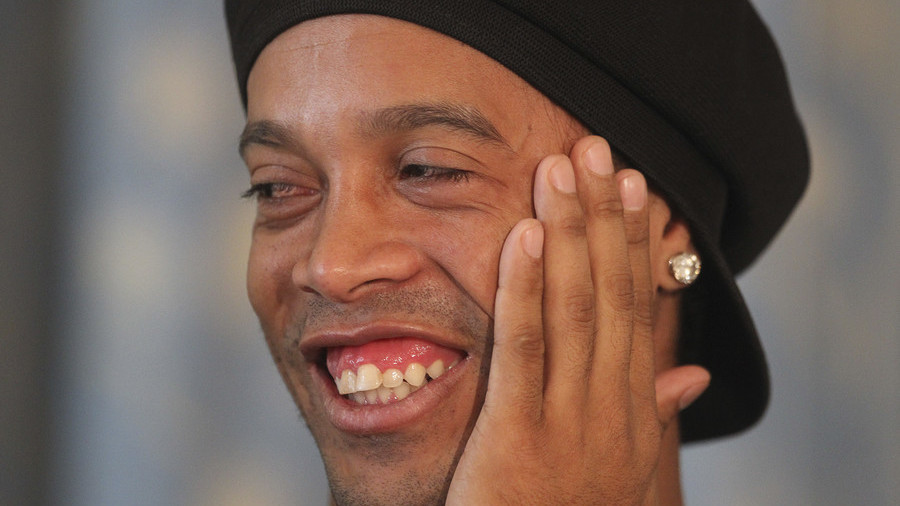 Brazil football legend Ronaldinho is set to marry two women at the same time after dating and living with the pair in his mansion, according to reports in his home country.
Ronaldinho, a World Cup 2002 and Champions League 2006 winner, got his hands on jugs for fun as a player and will now wed duo Priscilla Coelho and Beatriz Souza at the same ceremony in August at his $6.7 Rio mansion.
All three have lived together at the luxury apartment of the former Samba Boys and Barcelona number 10 in posh the Barra da Tijuca district since December and even holiday as a threesome, reports say.
Ronaldinho allegedly began dating Beatriz in 2016, but continued his relationship with Priscilla, which had begun several years earlier, columnist Leo Dias claims in Brazil's O Dia newspaper. The source says the women receive an allowance of $2,000 to spend how they please.
😱😱😱😱😱😱Ronaldinho va se marier en août avec deux femmes : Priscilla Coelho et... Beatriz Souza ! Tu m'étonnes qu'il en ait plus rien à foutre du foot 😂 pic.twitter.com/cnz09vugHe

— Foot Wags (@FootWag) May 24, 2018
The World Player of the Year for 2006 allegedly popped the question to the pair in January and gave the pair identical engagement rings. They were also lavished with identical gifts from the footy ace.
Ronaldinho has never publicly acknowledged the relationship, even taking to social media to refute earlier claims he was engaged, but it is understood the 38-year-old travels to almost every event he attends with his two girlfriends.
READ MORE: Russian football stars beat Ronaldinho-led FIFA legends on penalties in St. Petersburg
The former AC Milan playmaker returned to Brazil to finish his career after playing in Europe, helping Atlético Mineiro clinch the Copa Libertadores in 2013. The club are based in Belo Horizonte, the city from where Priscilla and Beatriz both hail.
He also won the 2005 Confederations Cup with Brazil and traveled to the Russian city of Kazan for the tournament's 2017 edition. Ronaldinho retired from football in January this year.
You can share this story on social media: