Ron-ing for office - World Cup winner Ronaldinho announces political career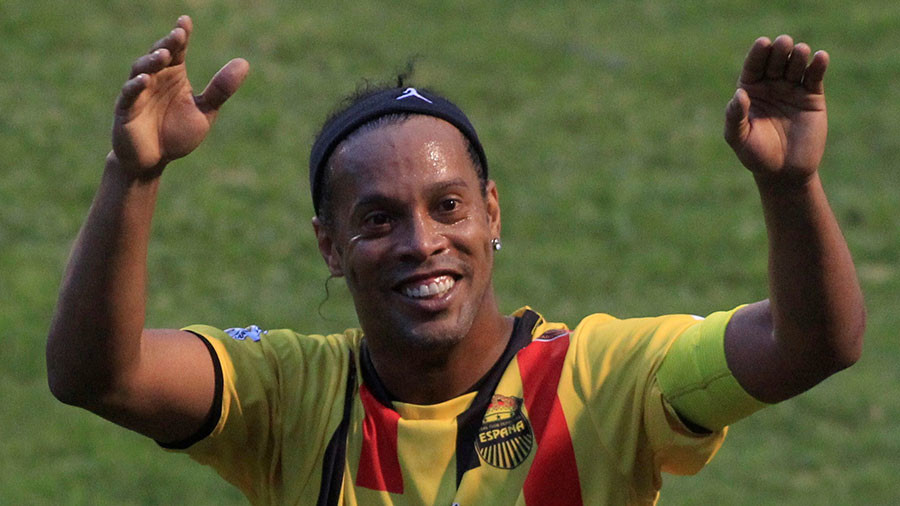 Brazil football icon Ronaldinho has announced he intends to make a move into politics and run for the senate in his home country Brazil with the right-wing Patriota political party.
The 2002 World Cup winner will run in the state of Minas Gerais for the Patriota (Patriots) Party, formerly known as the "National Ecological Party," according to Brazilian news outlet O Globo.
The 37-year-old, known nationally as Ronaldinho Gaucho, met with presidential candidate Jair Bolsonaro this week and posed for a photo with the politician's book.
However, before Ronaldinho can run, he has to hope Bolsonaro wins the vote to become the party's leader in March before he can try for the Senate. The Brazil general election is scheduled to be held in October 2018.
The Patriots Party is not without its fair share of controversy. Bolsonaro himself has been described as "anti-gay, anti-abortion, pro-guns and pro-military" and often likened unfavorably to Donald Trump.
However, the 62-year-old has identified himself as "an honest president, a patriot, who has green and yellow (the national flag's colors) in his blood and Jesus in his heart."
Ronaldinho reached his career peak winning the World Cup in Japan and South Korea in 2002 while playing his club football for Paris Saint-Germain, famously lobbing England keeper David Seaman from a free kick in a 2-1 quarter final defeat of the Three Lions.
His performances at the tournament earned him a move to Spanish giants Barcelona, with whom he won two La Liga titles and the 2006 UEFA Champions League, alongside an emerging Lionel Messi. He later moved to AC Milan before returning home to Brazil and eventually retiring in 2015.
Ronaldinho visited Russia last summer in the buildup to and during the 2017 Confederations Cup held in the country, and took part in a 6-a-side game, where a team of Russian football stars won in a penalty shootout against his team and a squad of FIFA legends in St. Petersburg.
READ MORE: Russian football stars beat Ronaldinho-led FIFA legends on penalties in St. Petersburg