'I'd swap Grand Slams for family life' – Russia's Kuznetsova on injuries, World Cup & future plans
Published time: 9 Apr, 2018 12:00
Edited time: 9 Apr, 2018 12:20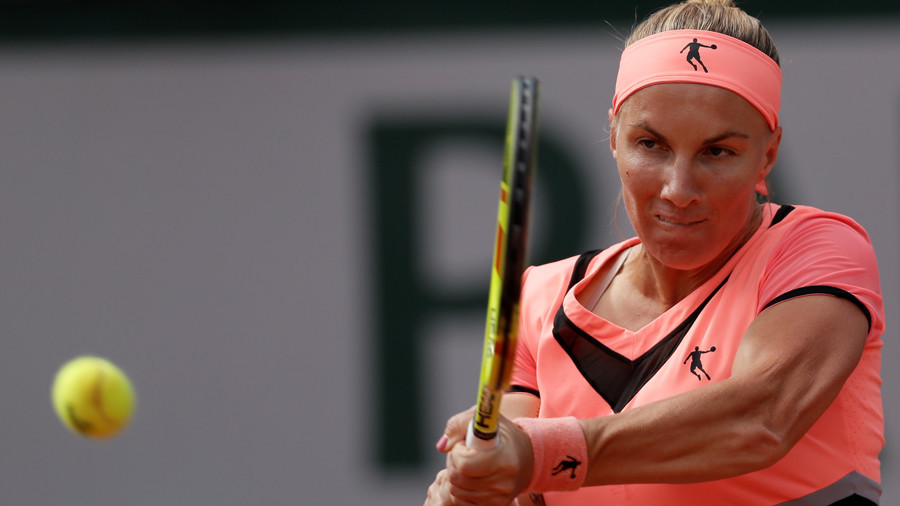 Double Grand Slam winner Svetlana Kuznetsova, currently recovering from a wrist injury that kept her out of the Australian Open, says she would exchange her tennis titles for a happy family life.
In an exclusive interview with RT, Kuznetsova talked about her lengthy recovery process as she bids to be ready for the French Open, where she was crowned champion in 2009; her passion for football; on-court behavior; and plans to retire after more than 16 years on the tennis circuit.
"I already had a knee injury before. I can't say for sure which recovery process was faster, but now I feel like my rehabilitation has been endless," the 32-year-old said.
"Now the situation has improved, but I still feel pain in my wrist after a particularly hard training session. I have played just a few matches after the injury and I'm trying to keep myself as busy as possible now to be in form before Roland Garros."
The three-time Fed Cup winner also said the "hard" nature of the tennis tour schedule dictates that the world's top players participate in numerous tournaments regardless of their physical condition.
"The tennis tour schedule is very hard, but nobody plans to soften it. It's not an easy task for a tennis player to decide at what tournaments to compete, because you're obliged to confirm your participation in advance," she said.
"Sponsors spend money on advertising. Due to a fully packed calendar, you feel exhausted and can have health problems at any moment. As a result you are pressed to play in any condition without an opportunity to withdraw from the competition.
"On the other hand, if you only take part in a few tournaments, you will have little tennis practice and will be knocked out in the early stages. I have been playing from January until November for 16 years. This is enormously difficult. Moreover, when I came back to tennis after my knee injury, I wasn't granted a wild card at any tournament."
Talking about her future plans, the current world no. 29 said that she would consider retirement after another "two or three" seasons on the tour, before turning her attention to other goals, one of those being a happy family life.
"Of course I'm thinking about my future. I'm 32 now and I can play for two or three more seasons, but anyway later I will have to find new goals and priorities in my life. Without hesitation I would definitely change my tennis trophies for a happy family life," she said.
Kuznetsova also explained why she didn't share any posts on social media following the tragedy in Kemerovo, and regretted that safety problems remain neglected in Russia.
"I watched TV all day long and followed the news on Instagram, but I didn't make any post about Kemerovo on social media. Having seen people's reaction to different comments related to the tragedy, I simply didn't want to make any provocation. I was overwhelmed by emotions and felt painfully sick, but to write 'we are mourning' means the same to me, as if I wrote nothing.
"I really regret that in our country people start paying attention to global problems only after such tragic events occur. I hope that something will change in the country following this outrageous tragedy."
Talking about her behavior on court, Kuznetsova noted that she cannot vent her emotions and smash rackets, as children watch her games.
"Sometimes there are moments when your emotions are boiling up inside. When you are 20, you can allow yourself to [show you anger]. For many players it's just a way to express yourself. But I'm trying to stay calm and cool, as I'm setting an example for kids. If I start behaving in a different way it would be disrespectful to spectators who come to watch my games."
Despite tennis being her driving passion, Kuznetsova is also a big football fan who was presented with a Barcelona jersey at one of the club's matches.
"I have friends who got acquainted with Barcelona president. A year ago I was given the club's jersey, this was my second jersey by the way. I have just remembered that it should have been signed by the players, but I forgot to take it back.
"When I have time, I watch football games. Of course I prefer to watch the games of Barcelona and Juventus , as this is a completely different level of playing. The FIFA World Cup is a great achievement for Russia, and I hope that everything will be staged at the highest level. I want to be proud for our athletes and our country.
"Due to my busy tennis calendar I haven't had an opportunity to buy tickets for World Cup matches so far, but if I have enough time, I will definitely attend the tournament which will be held in Russia. I will have a short break after Wimbledon, so we will see what happens, I don't want to make plans now."
READ MORE: Maria Sharapova gets marriage proposal from fan in Turkey, says 'maybe'
The former world number two also confessed that if she was given the chance to take a selfie with anyone outside the sporting world, she would choose Russian President Vladimir Putin. The historic figure she would most like to spend a day with would be famous Russian poet and writer Alexander Pushkin.