Tennis ace Kuznetsova cuts hair mid-match, сhops down Radwanska in WTA Finals (VIDEO)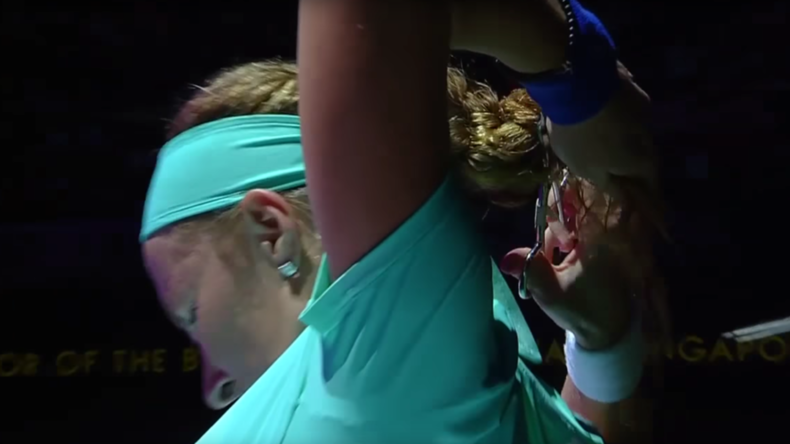 Russian tennis ace Svetlana Kuznetsova found a novel way of relieving the stress of being outplayed in a set during her WTA Finals women's singles match against Polish player Agnieszka Radwanska in Singapore.
World No. 7 Kuznetsova sat down in-between games in the second set, which she was losing heavily to the Pole, with a pair of scissors and started to hack away at her tied hair to give herself a DIY hairdo.
Commentator Alicia Molik speculated that the offending locks could have been affecting her playing style on the court.
"I can think of two reasons: one, she's feeling heavy on the court and wants to take a bit of weight off, or potentially it's just at an awkward length where it's just clearly disturbing her," she said.
Whatever the reason, it seemed to work as the Russian, who had lost the second set 1-6, came back to win the third to take the match 7-5, 1-6, 7-5 against 2012 Wimbledon finalist and current World No.3 Radwanska
READ MORE: Sharapova dropped from women's tennis singles rankings

Kuznetsova – former World No. 2, current World No. 7, and 2004 US Open champion and 2009 French Open champion – qualified for the WTA finals in Singapore by virtue of her Kremlin Cup win last week.
She also overcame sapping jetlag to play in the tournament just days after her win in Moscow.