Sharapova dropped from women's tennis singles rankings
Published time: 24 Oct, 2016 13:37
Edited time: 6 Aug, 2018 10:01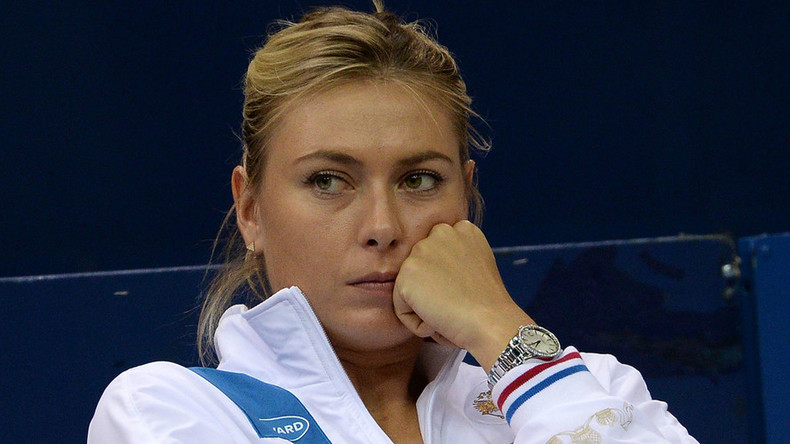 Maria Sharapova has been excluded from the official Women's Tennis Association (WTA) rankings. The Russian tennis star has not competed in enough tournaments in 2016 to be considered for a ranking position.
According to WTA regulations, to preserve a place in the rankings a player should take part in at least three tournaments and accumulate a minimum of 10 ranking points in the previous 52 weeks.
READ MORE: Sharapova's ban reduced, may compete starting April 26
This year, Sharapova only played in the 2016 Australian Open, where she was beaten in the quarter-finals by American Serena Williams. The latest WTA rankings of the world's best female players were published on Monday and did not include Sharapova.
In the previous list published a week ago, Sharapova held 93rd place. Top spot on the list was occupied by Germany's Angelique Kerber. Serena Williams, who was at the center of doping accusations from an alleged Russian hacking syndicate operating under the name Fancy Bears, was ranked second.
On June 8, the International Tennis Federation (ITF) suspended Sharapova until January 2018, after she was found to have used meldonium, which is included on the list of banned substances by the World Anti-Doping Association (WADA).
At the beginning of October this year, the Court of Arbitration for Sport (CAS) reduced Sharapova's initial 15-month ban to nine months. She will be able to compete again from April 26, 2017, meaning a wild card appearance in the French Open in May is a possibility.
Sharapova said in a podcast interview with American broadcaster Lewis Howes that the news brought a sense of both joy and relief.
"Just getting that decision that I was going to be able to play again next year, just already looking forward to that so much, knowing how excited I was to share that news with my fans – I almost couldn't keep it to myself," she said.
Aleksey Selivanenko, vice president of the Russian Tennis Federation (RTF), called Sharapova's omission from the rankings a mere "technicality" and expressed certainty that the five-time Grand Slam winner will return to the rankings in 2017.
"The fact that Sharapova was not in the ratings is simply a technicality. In order to be ranked you need to play in at least three tournaments. Because [Sharapova] has not played from the beginning of the year, she has not competed in the obligatory minimum number of tournaments, therefore she came out of the rankings," Selivanenko said, TASS reported.
"But next year she will resume her participation and as soon as she plays in her first three tournaments, she will immediately return to the ratings. That she will be given a wildcard by the organizers and quickly return to the ratings – I'm sure this will happen," he added.
It's not the first time Sharapova has suffered a slide in her ranking on a sports list. Last month the Siberian-born star dropped 62 places on the Forbes list of highest-paid athletes from 26th to 88th.
Her decline in the annual list was mainly caused by her sponsors, sports brand giants Nike and watchmaker Tag Heuer severing sponsorship ties with the player to prevent a backlash that would be commercially detrimental to the company.