McGregor arrested, charged with assault & criminal mischief over UFC 223 bus frenzy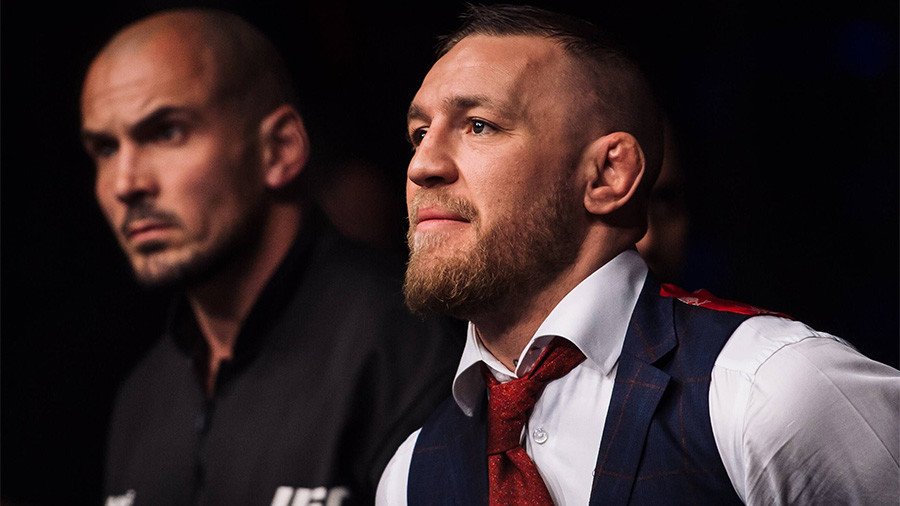 Conor McGregor has been charged with three counts of assault and one of criminal mischief following his frenzied attack on a bus carrying UFC 223 fighters at the Barclays Center, Brooklyn on Thursday.
The Irish UFC superstar damaged the bus around 1:30 pm (EDT) as it ferried martial artists from a media event in the lead-up to UFC 223, scheduled to take place this weekend in the New York borough.
The 29-year-old later surrendered himself to the NYPD's 78th Precinct, a police spokesman told Reuters. He was arrested, charged and will be remanded in custody until a court appearance Friday.
The alleged attack took place in the wake of the news that McGregor would be stripped of his UFC lightweight title. As he has not defended the belt since July 2016.
McGregor was reportedly hunting for Russian UFC star Khabib Nurmagomedov, who on Wednesday was filmed becoming embroiled in an altercation with Artem Lobov, McGregor's friend and sparring partner. Lobov was subsequently pulled from the UFC 223 card for his involvement in the bus attack.
Meanwhile, Nurmagomedov reacted to the assault, saying "I am laughing inside."
"This is big history gangster place. Brooklyn. You want to talk to me? Send me location. We have to talk? I am gonna come, no problem," he said to MMA Fighting.
UFC fighter Michael Chiesa, who was on the bus during the attack, received facial cuts from the shattered glass, and was later removed from the upcoming event by the New York State Athletic Commission.
His coach, Rick Little, told MMAjunkie: "Conor went bananas and put a beating on the van that we were in.
"A million security guards had to restrain him. Mike's cut up now. He's got marks on him, for sure. I don't think too serious. Everything happened so fast, it was just like we got jumped."
READ MORE: 'If McGregor wants to fight he can send me his location' – Khabib Nurmagomedov reacts to bus attack
You can share this story on social media: