'If McGregor wants to fight he can send me his location' – Khabib Nurmagomedov reacts to bus attack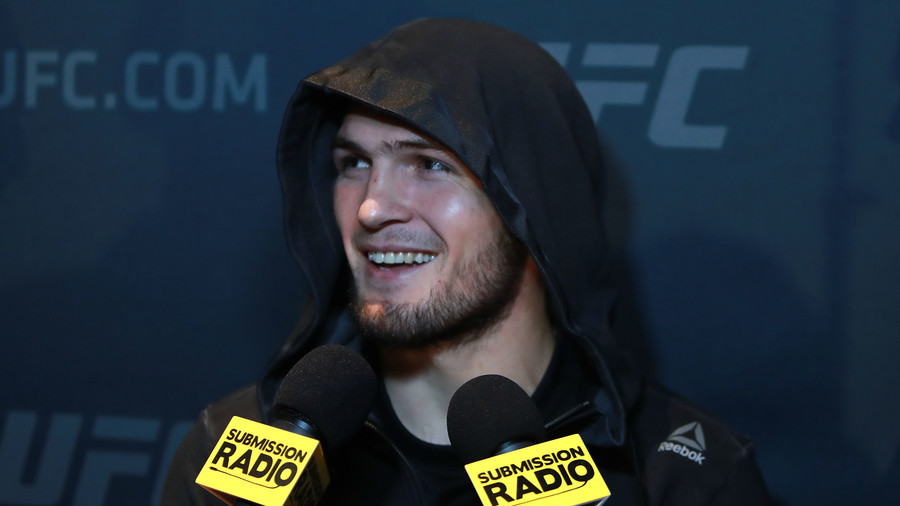 Russian UFC star Khabib Nurmagomedov has given his reaction to Conor McGregor's attack on the UFC 223 fighters' bus, which was apparently aimed at hurting him, but resulted in an injury to another fighter.
The incident at the Brooklyn parking lot, which saw McGregor, with an entourage of more than a dozen people, throwing various objects at one of the fighters' buses after the close of the UFC 223 media day, in an apparent attempt to injure Nurmagomedov. The act might now spell big trouble for the Notorious Irishman.
A police warrant has reportedly been issued for McGregor's arrest, as his attack on the bus left a few people injured by shattered glass, including UFC fighter Michael Chiesa, who was set to fight Anthony Pettis this Saturday; some of the UFC officials on board were also reportedly injured.
The reason behind the attempted attack on Nurmagomedov most certainly lays behind the Russian's recent confrontation with McGregor's friend and sparring partner Artem Lobov in the fighters' hotel just two days ago. During that altercation, Nurmagomedov told the Russian-born Irishman Lobov to "never mention his name again" while holding his hand on the side of Lobov's neck, referring to the latter's interview with Russian media last summer, in which he called the Dagestan native (Nurmagomedov) "a p****." Nurmagomedov had apparently also slapped Lobov on the side of his neck, before letting him go and saying "not to ever say a thing like that" about him.
READ MORE: Khabib Nurmagomedov wants 'legacy fight' with St-Pierre next, but what does GSP think?
McGregor's team response, however, didn't not reach Nurmagomedov so far and, in his words, made him laugh.
"I am laughing inside," Nurmagomedov confided to MMA Fighting.
"You broke window? Why? Come inside. You know UFC don't let you come inside. If you real gangster why don't you come inside?
"This is big history gangster place. Brooklyn. You want to talk to me? Send me location. We have to talk? I am gonna come, no problem," he added.
And while the incident has already resulted in Lobov, who was set to fight Alex Caceres, being pulled out from the card, Nurmagomedov says that he doesn't wish for McGregor to be arrested.
"To be honest, I don't want him to go to jail," he said. "We have to fight. If we have to fight, let's fight. Send me location. Please, we have to fix this. Me and you. One-on-one. You want 10-on-10? OK."
The 29-year-old Nurmagomedov is set to fight in the main event fight, at the UFC 223 event in Brooklyn's Barclays Center, against Max Holloway for the lightweight championship title. McGregor, who won the belt in this very weight class in November 2016, will be stripped of his title on the day of the Nurmagomedov-Holloway fight; the winner of this bout will become the new champion.