Conor McGregor surrenders to NY police after UFC 223 fighters' bus rampage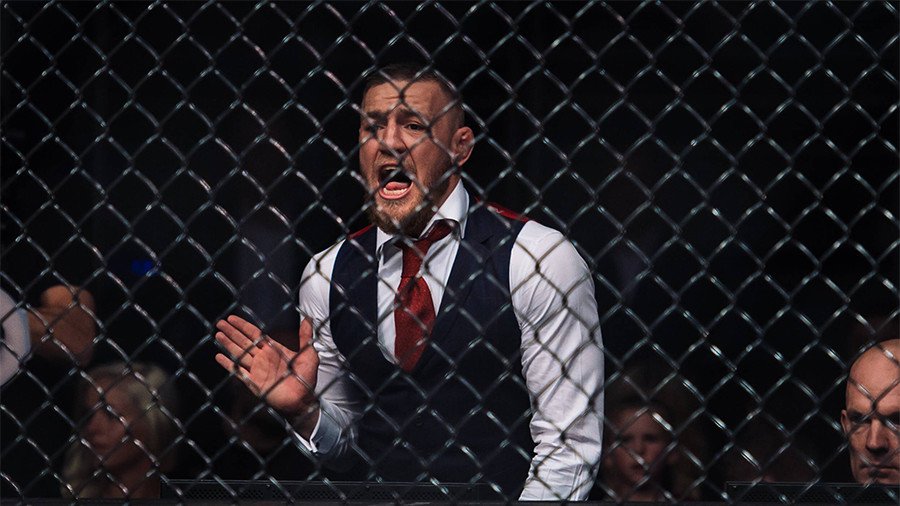 UFC superstar Conor McGregor has surrendered to New York police, but has not yet been charged, after taking part in a chaotic attack on a bus carrying fighters following a media event at the Barclays Center in Brooklyn.
McGregor surrendered to authorities at the NYPD's 78th Precinct, a police spokesman told Reuters. He has not been immediately charged with anything, as the police investigation into the incident is ongoing.
The 29-year-old decided to turn himself in after attacking the fighters' bus, apparently hunting for Russian UFC star Nurmagomedov, who'd had a heated confrontation with McGregor's friend and sparring partner Artem Lobov in the fighters' hotel just two days ago.
The incident occurred right after the media day for UFC 223 at the Barclays Center at around 1:30 pm, when the fighters were leaving the venue on a bus. McGregor, who arrived with his entourage at the end of media day, attacked one of the buses carrying fighters scheduled to take part in the event this Saturday, including Nurmagomedov.
Cell phone cameras caught McGregor throwing various objects at the bus, including a dolly which broke the glass of one of the windows, injuring Michael Chiesa, who was set to fight Anthony Pettis on Saturday.
Chiesa received facial cuts by the shattered glass, and was later removed from the upcoming event by the New York State Athletic Commission. Some of the UFC officials also reportedly received minor injuries.
"The organization deems today's disruption completely unacceptable and is currently working on the consequences that will follow," the UFC said in a statement. "Immediately, Lobov has been removed from this weekend's card and individuals involved in the incident are not welcome at tomorrow's ceremonial weigh-in or Saturday's event at Barclays Center."
Meanwhile, Nurmagomedov reacted to the assault, saying "I am laughing inside."
"This is big history gangster place. Brooklyn. You want to talk to me? Send me location. We have to talk? I am gonna come, no problem," he said.
You can share this story on social media: