All-time greatest biathlete Bjorndalen announces retirement at 44
Published time: 3 Apr, 2018 09:38
Edited time: 3 Apr, 2018 09:52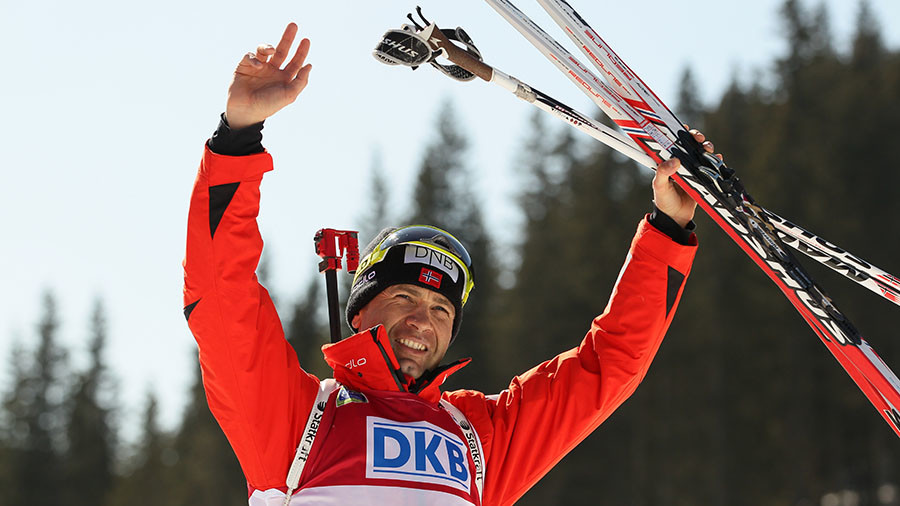 Legendary Norwegian biathlete Ole Einar Bjorndalen, who holds the career Winter Games medal record, has announcement his retirement from professional sport at the age of 44.
Dubbed the 'Great and Terrible' for his stellar determination to win, Bjorndalen carved his name into sports history by setting numerous records during his 24-year career on the biathlon circuit.
He first rose to prominence in 1993, when he won three out of four races at the Junior Biathlon World Championships at the age of just 19. Since then, he took part in seven Winter Olympics and 23 world tournaments, making himself the most decorated winter sports athlete in history.
He is the only athlete ever to win all biathlon events in a single Winter Olympics, when he made the golden sweep at the 2002 Salt Lake City Games.
In 2014, at the age of 40, the Norwegian 'shooting skier' became the oldest individual Winter Olympic champion, after he claimed victory in the men's 10km race in Sochi. He added one more gold to his record at the same Winter Games, when Norway finished first in the newly-introduced team relay.
With two titles taken at the Sochi Games, Bjorndalen became a 13-time Olympic medallist, beating his fellow countryman and prominent skier, Bjorn Daehlie, who claimed 12 Olympic medals during his career.
Only three summer Olympians have more impressive medal-haul records compared with Bjorndalen's result: US swimmer Michael Phelps and Soviet gymnasts Larissa Latynina and Nikolai Andrianov.
Following his triumph in Sochi, the eight-time Olympic champion Bjorndalen tied with Daehlie for the career gold-medal record.
He could have possibly extended his sizeable collection of awards at the PyeongChang Games this year, but surprisingly Bjorndalen failed to make it into the Norwegian squad, demonstrating unimpressive results during the season.
READ MORE: 'I'll be afraid of tests if Russians are banned for nothing but scratch marks' – Bjorndalen
Having taken 95 victories in the biathlon World Cup stages, the Norwegian holds the men's record for most individual wins ever. He overtook Swede Ingemar Stenmark, the legend of downhill skiing, who won 86 times in technical races between 1975 and 1989.
With 13 Olympic medals, 45 world championship medals, and six Big Crystal Globes, the 'King of Biathlon' Bjorndalen brings his illustrious career to an end as the most successful and most decorated winter sports athlete of all time.