Russian biathletes 'all clean until proven guilty,' says 8-time Olympic champ Bjorndalen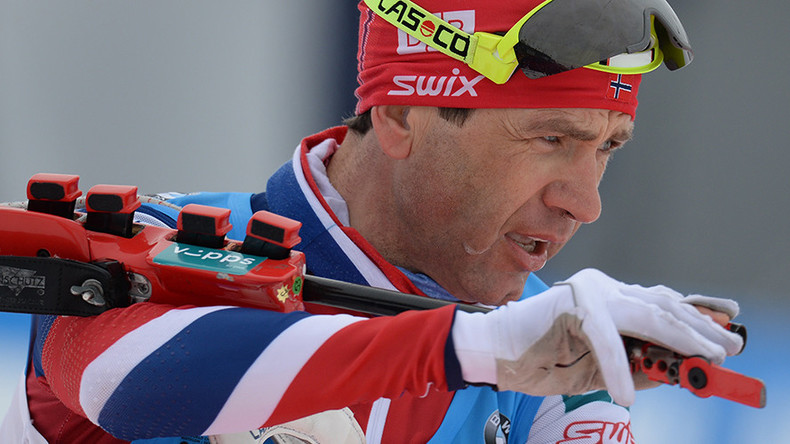 The doping allegations against Russian biathletes must be taken seriously, but the sportsmen and women are innocent until proven guilty, says Norwegian star Ole Einar Bjorndalen, an eight-time Olympic champion.
"As long as they are not disqualified, for me they are all clean," the 42-year-old biathlete, often referred to as 'The King of Biathlon,' told sport.de.
"If only 10 percent of [the allegations] is true, it's a disaster, but before that I want to see evidence," he added.
The International Biathlon Union (IBU) said on Thursday it had received a list from the World Anti-Doping Agency (WADA) with the names of 31 Russian biathletes, mentioned in the recent report by the WADA Independent Commission in regard to doping allegations.
"There are three groups of athletes in this list: active biathletes, those who have already completed a career, and those that are not listed in our database," IBU President Anders Besseberg told TASS on Thursday.
"With regard to the latter group, then we have only their last names, and we can only assume that they represent various Russian sports societies. They have never taken part in international competitions," he noted, adding that an expert group, consisting of both lawyers and experts in anti-doping work, has been established to study the WADA report.
The doping test samples of 12 Russian medalists from the 2014 Sochi Olympics were tampered with, according to claims made on December 9 in London, in the second part of a WADA-commissioned report, authored by Canadian lawyer Richard McLaren.
The report, without providing any names, claimed that more than 1,000 athletes, taking part in summer, winter and Paralympic competitions, benefited from the alleged plot to conceal positive doping tests.
"We are now able to confirm a cover-up that dates back until at least 2011 and continued after the Sochi Olympic Games. It was a cover-up that evolved from uncontrolled chaos to an institutionalized and disciplined medal-winning conspiracy," McLaren said at a news conference, as cited by Reuters.
The sports events where doping was allegedly used by Russian athletes included the 2012 London Olympics, the 2014 Sochi Olympics, the 2013 World Student Games, and the 2013 World Athletics Championship, according to the report.
WADA has declared it will not be making public the names of the athletes from the second part of the report. "We won't publish the names of the athletes, as we have to respect their right to privacy," McLaren told TASS.
You can share this story on social media: