'I'll be afraid of tests if Russians are banned for nothing but scratch marks' – Bjorndalen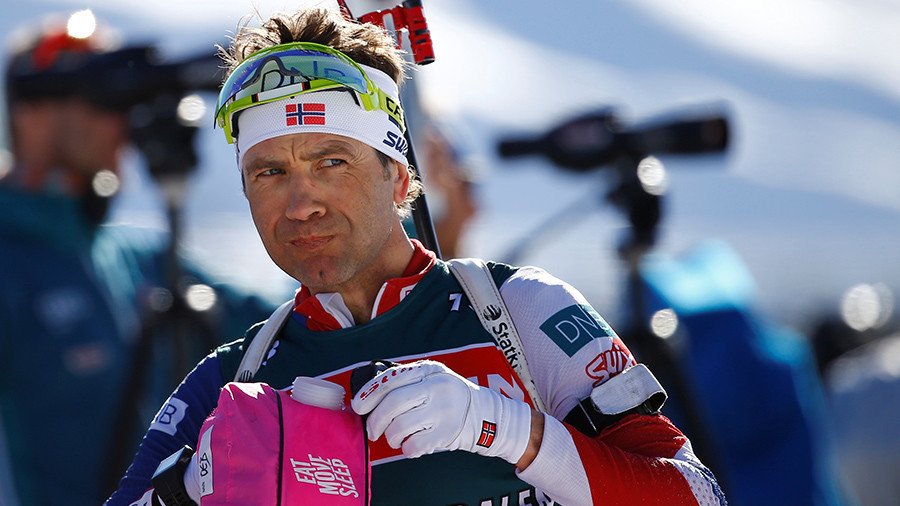 If the Russians are barred from the Olympics only because there are some marks on their sample bottles, it will instill fear in all rule-abiding athletes, said the most decorated Winter Olympian of all time, Ole Einar Bjorndalen.
Bjorndalen, 43, an eight-time Olympic biathlon champion, has called for more compelling evidence than scratch marks supposedly found on sample bottles of some Russian athletes if they are to be implicated in the ongoing doping scandal.
"I hope that we will be able to see some evidence for what they [Russian athletes] are being punished, and that it it's not that there are some marks on the bottles, because then I will be terribly afraid of giving samples," Bjorndalen, said, as cited by the Norwegian News Agency (NTB).
The very idea that one can be found guilty of doping violations without being tested positive has stoked fears among the athletes as they now worry they can be punished virtually under any pretext, Bjorndalen said.
"We skiers are beginning to feel uncertain when we are being tested that there are some scratches on sample bottles for which they can punish us," he said.
Bjorndalen said he has not read the 2016 report by Canadian lawyer Richard MacLaren, which claimed scratch marks on sample bottles were evidence of a state-sponsored doping system in Russia.
With that, he believes that the decision on Russia's participation in the Olympic Games, that is expected to be made by the International Olympic Committee (IOC) on December 5, should not boil down to a blanket ban on all Russian athletes.
READ MORE: 'Unjust & unpleasant': Kremlin spokesman Peskov on WADA 'non-compliance' ruling
"I hope the decision will be made well before the Olympics, so the atmosphere at the World Cup will be a little calmer. The sport deserves it. And we hope they will remove those who have positive tests and those who do not have them will be allowed to compete," he said.
Bjorndalen, who is often referred to as the King of Biathlon, is set to compete in his record seventh Olympic Games in South Korea in February.
Earlier this month, the IOC annulled the results of six Russian cross-country skiers in the 2014 Sochi Olympics, including of the winner of men's 50km marathon Alexander Legkov, and Maxim Vylegzhanin, a silver medalist in men's team sprint and marathon. The athletes announced they are appealing the decision, which also prevents them from participating in any future Olympic Games.
The IOC based its ruling on the findings of an IOC's Disciplinary Commission, which was charged with reanalyzing the samples. However, no details on the nature of the violations have been provided by the body.
READ MORE: 'We were not surprised by WADA's decision'- RUSADA chief on organization's non-compliance status
The second part of the WADA-commissioned investigation by McLaren, released in December 2016, claimed that the samples of 12 Russian medalists of 2014 Sochi Olympics were tampered with. At the time, no names were revealed.
On Thursday, the WADA foundation board found that the Russian Anti-Doping Agency, RUSADA, was non-compliant with the WADA code. Russian Sports Minister Pavel Kolobkov denounced the decision, arguing that the roadmap criteria which RUSADA had not met was pure politics. The main point of contention between WADA and RUSADA is the demand to acknowledge the existence of a state-run doping system in Russia, which Moscow categorically denies.
You can share this story on social media: