Kemerovo MMA fighter calls for governor to resign over mall fire tragedy
Published time: 28 Mar, 2018 13:26
Edited time: 30 Mar, 2018 14:54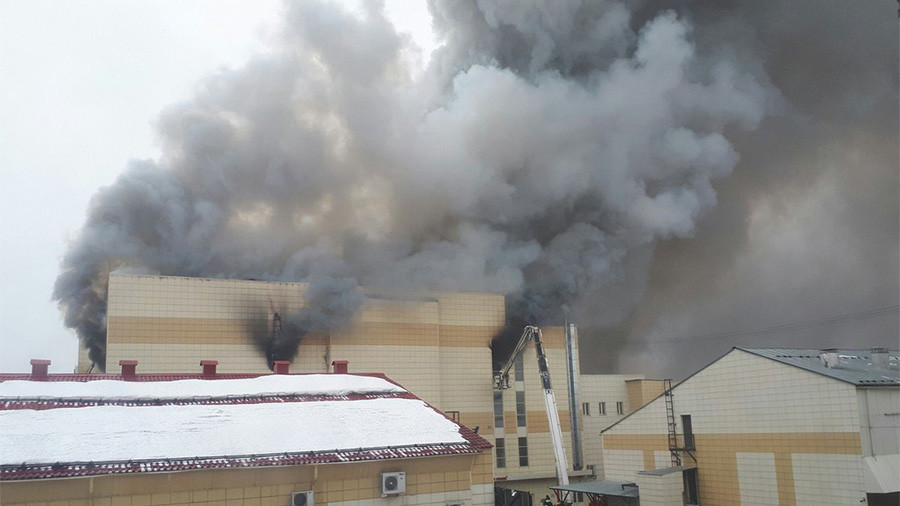 Former MMA world heavyweight amateur champion Anatoly Malykhin has published an open letter to Kemerovo governor Aman Tuleev, urging him to resign in the wake of the shopping mall fire tragedy which has shaken Russia.
Malykhin, a 30-year-old native of Kemerovo who made his first steps in professional MMA at the end of the last year, took to social media to express his thoughts on the tragedy which has claimed at least 64 lives. The former Russian and world heavyweight amateur champion pointed the finger at local governor Aman Tuleev over the tragedy, calling on him to resign.
"It tears me apart and it's impossible to remain silent," Malykhin wrote in an Instagram post in Russian, captioning the video in which Tuleev answers questions from the media regarding the tragedy.
READ MORE: VIDEO of moment blaze begins at busy shopping mall in Russia's Kemerovo
"I understand that now is probably not the best time to take it out, but if not now then when? This video proves Aman Gumirovich [Tuleev] that despite all your merits, your time to leave of your own will has come long ago! This is the main thing that you are responsible for, the duty to check and monitor the state bodies that have detected violations beforehand! How dare you [ask people] to calm down? How dare you say that there were reasons? Then name those very reasons! Why haven't [you] visited the 7th School where volunteers, relatives and those affected gather?"
"For some reason our new mayor, probably the only worthy person in 'your team', rushed to the place of the tragedy in a tracksuit, just to get there as soon as possible. On the other hand, you came to the briefing, [after] making sure to wear a suit and a tie."
READ MORE: Footage from inside Kemerovo shopping mall shows scale of destruction (VIDEO)
Malykhin then said the governor would not have reacted to the tragedy in the same way had it not been for a relative who reportedly died in the fire.
"And if it was not for this same relative girl you wouldn't have taken it personally? It's time [to go]! Period! Apologize for this tragedy! And not with your million rubles [of compensation to each family], but with the genuine human words and sympathy! Apologize to our beautiful region with our WONDERFUL PEOPLE, which has been plundered, destroyed and turned into a total mess in the last 4 years! Apologize and leave! My fellow people from Kemerovo, Kuzbass and Siberia! I beg you not to be silent and not to be afraid!"
Since the tragedy, multiple rallies have been held across Russia to mourn the victims of the blaze, with people bringing candles, flowers and toys to central city squares, with services also being held in churches.
READ MORE: Thousands across Russia commemorate victims of deadly Kemerovo mall fire (VIDEO)
Kemerovo locals have also taken to the streets, calling for the resignation of the authorities.
The protests came after multiple witnesses said that the fire exits had been blocked and there was no alarm during the blaze in the shopping mall. The information was later confirmed by investigators.
During his urgent visit to Kemerovo, Russian President Vladimir Putin also slammed the "criminal negligence" and corruption behind the tragedy.
"What is going on, this isn't warfare, or a sudden methane outburst in a mine. People, children, came there to relax. We talk about demographics, and we lose so many people to what? To criminal negligence, to sloppiness," he said.
Putin also implied that corruption was involved, as he called for a thorough investigation. "Every official's actions need to be legally assessed," he said. "They'll sign anything for money."
Wednesday, March 28, has been declared a national day of mourning for the Kemerovo victims, with flags across Russia flown at half-mast and all entertainment events being cancelled.