Thousands across Russia commemorate victims of deadly Kemerovo mall fire (VIDEO)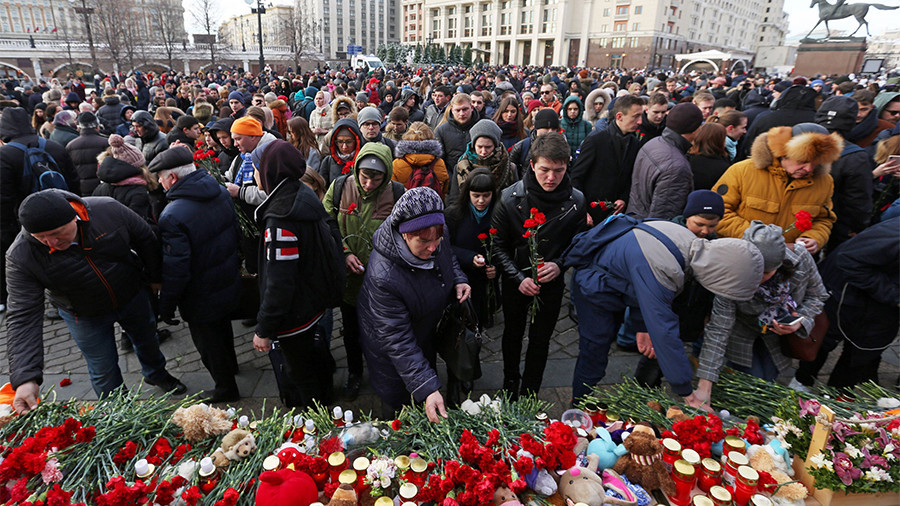 Multiple rallies have been held across Russia after the Kemerovo shopping mall fire. People brought lit candles, flowers and stuffed toys to mourn the victims of the tragedy, which left at least 64 dead.
In Moscow, people gathered at the central Manezhnaya Square near the Kremlin, as well as several other locations across the capital.
Most people mourned in silence, although in some locations people called for the resignation of local authorities and a transparent investigation. Some people brought candles, arranging the word 'Kemerovo' out of them and chanted "Kemerovo, we are with you."
In St. Petersburg, a rally took place at the central Dvortsovaya Square. People commemorated the victims of the blaze with a minute of silence and lit candles. Stuffed toys were brought to the square to commemorate the large number of children who died in the blaze.
In most cities, the vigils have been staged in the downtown squares, while some have also held requiem services at local churches. Photos and videos of the country-wide mourning, like this one from Barnaul, have gathered numerous comments, with people expressing their condolences and grief over the tragedy.
People brought stuffed toys to the vigils since many of the victims were children.
Commemorative vigils have been also held outside Russia. People in Ukraine, Israel, Estonia, the Czech Republic, the US and other countries have brought flowers and toys to Russian diplomatic facilities, extending their condolences to the victims.
READ MORE: 'We are with you': People worldwide pay tribute to victims of tragic mall blaze in Russia (PHOTOS)
You can share this story on social media: