'We're going to suffocate': Timeline of tragic Kemerovo fire (VIDEO)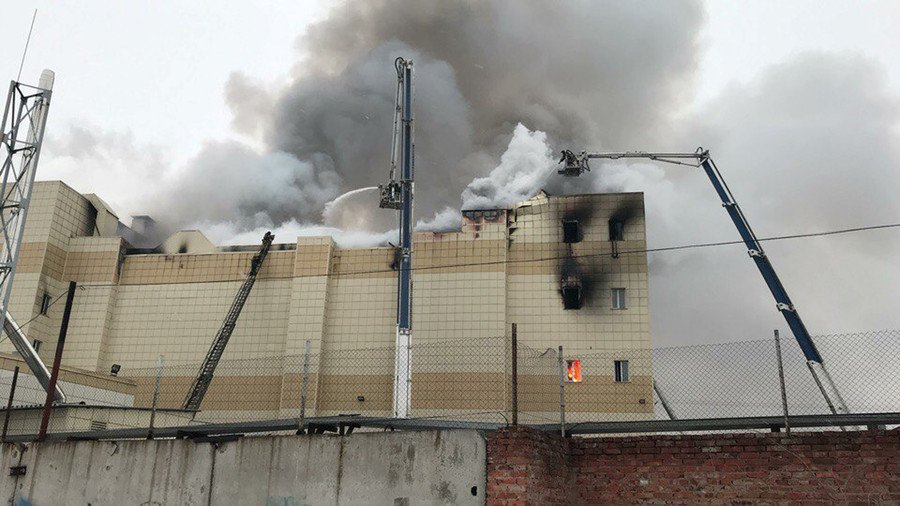 As the city of Kemerovo continues to mourn those lost in a mall fire that claimed at least 64 lives, chilling videos from Sunday show how the horrific tragedy unfolded.
It was the Sunday before school holidays began and children from a nearby school were taken on a field trip to the cinema inside the busy mall at around 3:30pm. Just half an hour later, people are seen running for their lives.
Heartbreaking footage from the scene shows a young boy asking his mother where his father is, to which his mother responds by saying "Let's get in the car, let's run." A panicked man can later be heard saying "We're going to suffocate, for sure," as people were trying to save children from the burning building. People trapped in the mall were calling their loved ones to say goodbye.
By 4:20pm, desperate victims were left with no other choice than to jump out of windows. Firefighters were only able to extinguish the blaze the next day.
Many are rallying for justice in Kemerovo, after investigators determined that the smoke alarm had been switched off and fire exits were blocked. Wednesday, March 28 will be a national day of mourning for the victims.
If you like this story, share it with a friend!
You can share this story on social media: