IPF briefly suspends Russian champion powerlifter for 'lucky' Putin t-shirt podium stunt
Published time: 12 Sep, 2017 15:08
Edited time: 12 Sep, 2017 15:39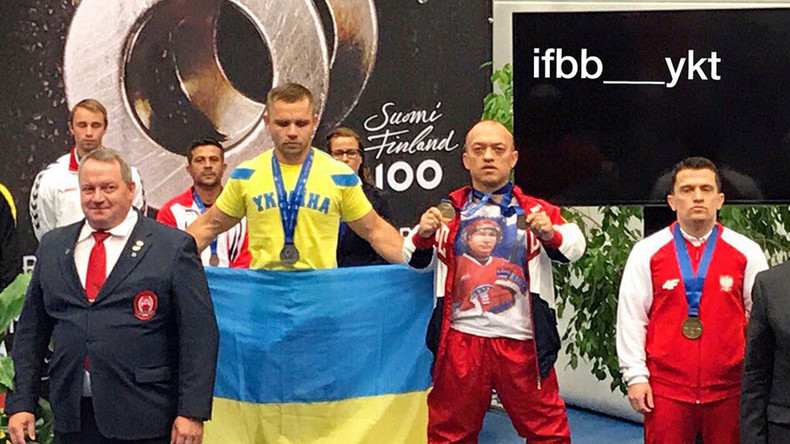 Russian powerlifter Vladimir Balinets has had his disqualification from competing by the International Powerlifting Federation (IPF) for wearing a t-shirt with the image of Russian President Vladimir Putin in full ice hockey gear rescinded.
The IPF initially banned Balinets from international competition until the end of 2017 after he opened his tracksuit jacket on the podium to reveal the Putin t-shirt upon receiving the gold in the classic bench press at the European Championships in Finland.
Explaining the disqualification, Yakutia Powerlifting Federation President Alexander Grenaderov, said the t-shirt went against IPF rules on "the demonstration of all religious and political symbols at competitions."
READ MORE: Russian powerlifting champ killed in brutal street brawl (DISTURBING VIDEO)
"On this basis, the disciplinary commission has taken the decision to disqualify the powerlifter from participation in international tournaments until the end of 2017," he said.
Grenaderov later posted to his Instagram account that the decision to disqualify Balinets was currently being reviewed and it was likely the 32-year-old would escape with just a warning.
On Tuesday, the Federation of Powerlifting of Russia (FPR) president Gennady Hodosevic said the situation had been resolved and that Balinets would face no a ban, TASS reported.
"There will be no suspension, it is all our internal business, Balinets will compete for Russia in one and a half month's time. For such behavior is a display of patriotism, and for them - it is a red flag," mixture of sport and politics, that they can't allow," Hodosevic said.
"An application was submitted, for the situation to be reviewed by the IPF disciplinary committee to avoid this, I apologized for the athlete's action, we have a good relationship and they rescinded their grievance.
"I told them that we will carry out our investigation, we already spoke with Vladimir and his trainer, there is no problem with him," he added.
It is not the first time a Russian athlete has been chastised for wearing a shirt with the image of the Russian President.
In early 2016, UEFA fined Lokomotiv Moscow midfielder Denis Tarasov for stripping off his jersey at the end of a Europa League game with Fenerbahce to reveal a shirt with Putin's image and the words 'the most polite president'.
Balinets also won silver at the 2012 Paralympics and bronze at the World Championships two years later.