Russian powerlifting champ killed in brutal street brawl (DISTURBING VIDEO)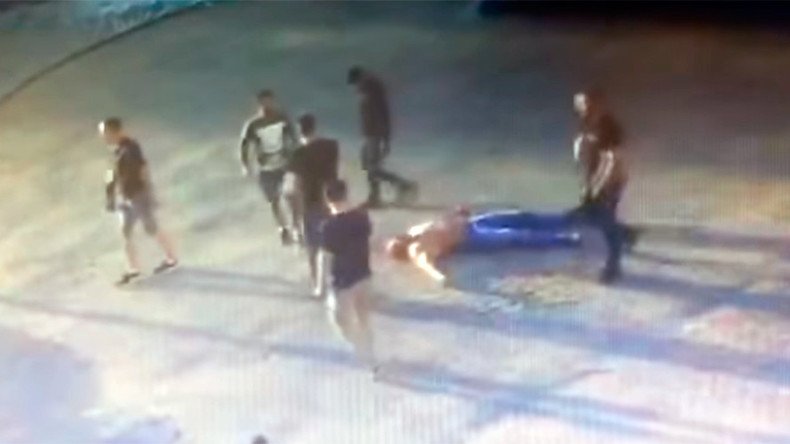 Russia's world champion powerlifter, Andrey Drachyov, has died in hospital after sustaining serious head injuries during a street brawl in the Far Eastern city of Khabarovsk.
The incident occurred outside a café in the center of Khabarovsk early Sunday and was caught on CCTV.
Drachyov, 32, and his killers are seen bare-chested in the footage, with could indicate that it was no spontaneous brawl and that the men had agreed to settle their dispute via a fistfight.
According to Telegram channel Mash, the trouble started as they argued which sporting discipline was better and more effective.
(WARNING: DISTURBING VIDEO)
Drachyov's killer seemed to be well-trained in martial arts as he brought down the powerlifter with a roundhouse kick.
Drachyov was able to get up, but received another kick to the head and crashed heavily on to the pavement.
With Drachyov down, the killer then delivered several brutal blows to his head before security guards from the café interfered.
"The brawl between the two visitors of the cafe located in the center of Khabarovsk took place at around 7am on August 20, 2017. The victim died in hospital due to the injuries he suffered. According to preliminary data, the cause of death was a craniocerebral injury," local police said in statement.
The killer, identified as Anar Allakhveranov, fled the scene and has been placed on a wanted list.
A case under "deliberate infliction of grievous bodily harm, which caused the death of the victim by negligence" has been launched against him, local media reported.
Drachyov was the junior powerlifting world champion in 2008 and took the silver world championship medal at senior level in 2011.
He recently switched to bodybuilding, claiming the Far Eastern Federal District Cup earlier this year.
The head of Russia's powerlifting organization, Yury Ustinov, told R-Sport news agency that "a powerlifter is not always a fighter. Besides the times of fair fights are far gone."
"I'm very upset, first of all, because the life of a young man has ended; and also because we've lost a promising athlete. I'd like our law enforcers to get to the bottom of this and deliver a punishment to those responsible," Ustinov said.
READ MORE: Friend of wrestler killed in brutal attack appeals to Putin for life sentences for assailants
In late July, two-time European junior freestyle wrestling champion Yury Vlasko was killed as he was camping at Lake Baikal with his friends.
The 20-year-old athlete, who was preparing to represent Russia at the 2020 Olympics, died after being stabbed in the head and neck after a conflict with locals, all of whom were reportedly ex-convicts.
You can share this story on social media: